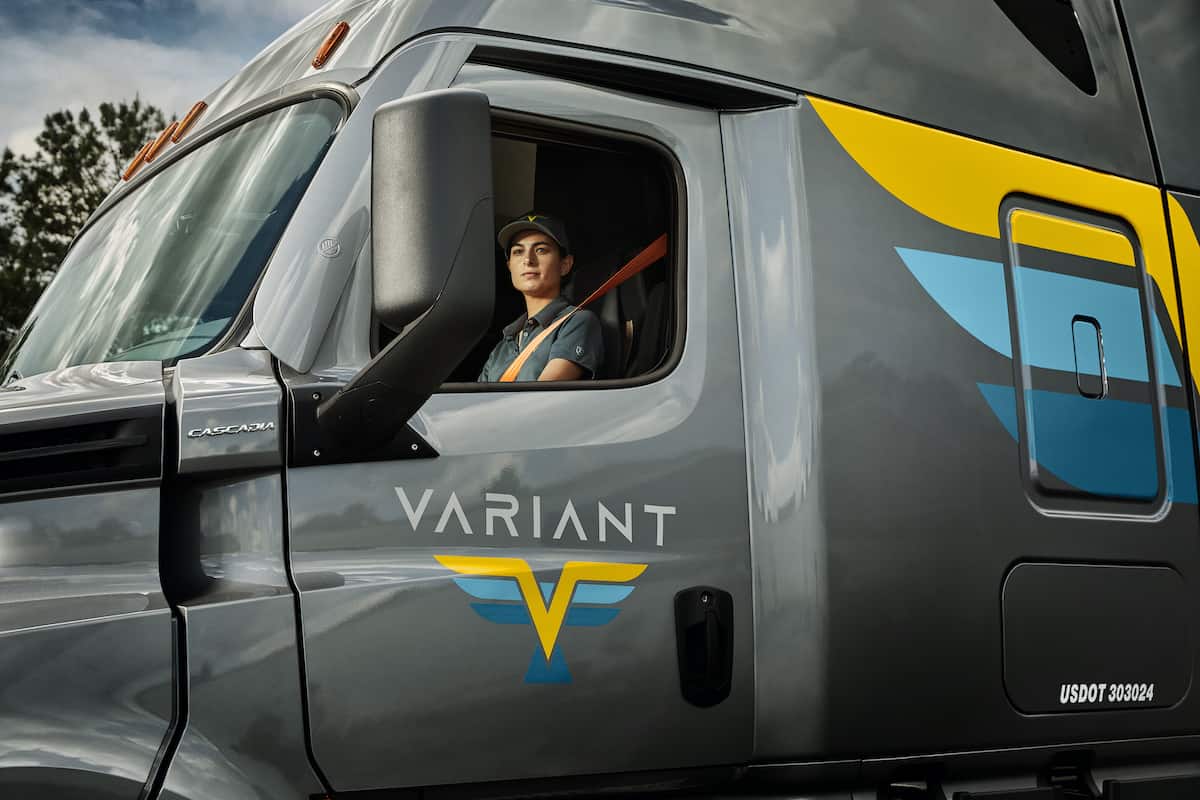 Variant is a high-concept fleet launched by US Xpress. US Xpress is the largest asset-based truckload carrier by revenue in the United States. They were founded in 1986 and have grown to become a leader in the industry.
Variant is one of the top trucking companies in Georgia that train drivers, but they are focused on recruiting experienced drivers.
What Makes Variant Unique?
Variant stands out because of its unique and technology-focused approach to trucking. Their fleet includes late-model Freightliner Cascadias that are outfitted with digital dashboards.
Scheduling and load planning are handled by Variant Optimizer, which uses machine learning and AI algorithms. This allows trucks to maximize their loaded miles and generate more revenue, which translates to more money for drivers.
The trucks that drivers drive also provide conveniences, like refrigerators that come standard and ADUs. The company provides 24/7 support.
Variant boasts 20% more loaded miles per week compared to the standard. They also have 70% lower driver turnover.
The company is driver focused. They care for their employees, and their drivers leave excellent reviews for Variant.
What to Expect Driving with Variant
Company drivers average 2,500 miles per week, but many drivers tackle even more miles. While drivers take on more miles than average, they still enjoy plenty of home time.
Requesting home time is easy. Just apply right from the app, and Variant's advanced system will take care of the rest of the process. Variant boasts a 95% home-on-time goal for their drivers.
According to Variant, drivers also earn 30% more than the industry average. They cover a lot of miles, and many do more than the 2,500-mile average. So, expect to work hard for your pay.
Company drivers can keep in touch through an app, which helps create a community-like feeling and sense of comradery amongst drivers. Through the app, drivers can also leave information about facilities they're passing through.
Variant Job Requirements
Variant boasts a high pay rate and competitive benefits as well as a low turnover rate. To achieve their stellar reputation, Variant works with only experienced and professional drivers.
To be considered for a job at Variant, drivers must meet the following qualifications:
1 year of experience minimum; 2 years of experience preferred
Must have a CDL A
Must be 21 years of age or older
Drivers are expected to conduct themselves in a professional manner.
Variant Pay and Benefits
According to Variant job listings, drivers earn the following:
56-60 CPM (based on your experience level)
That translates to $1,400-$1,500 per week, on average.
Drivers may also receive a $2,500 transition bonus with their first paycheck and paid orientation.
Variant is able to offer higher pay because they hire only experienced, professional drivers for their fleet.
What about Benefits?
Company drivers enjoy a great benefits package, which includes:
Medical, vision and dental insurance
401(k) with company match
Pet policy
These benefits add to the overall compensation that drivers receive.
Variant Trucking has a decent pay rate, good benefits and will even allow pets to join you in the cab. That is an ideal setup for younger drivers looking get ahead in the transportation industry.
Visit DriveVariant.com for more information and jobs.