Best Tow Truck Insurance Companies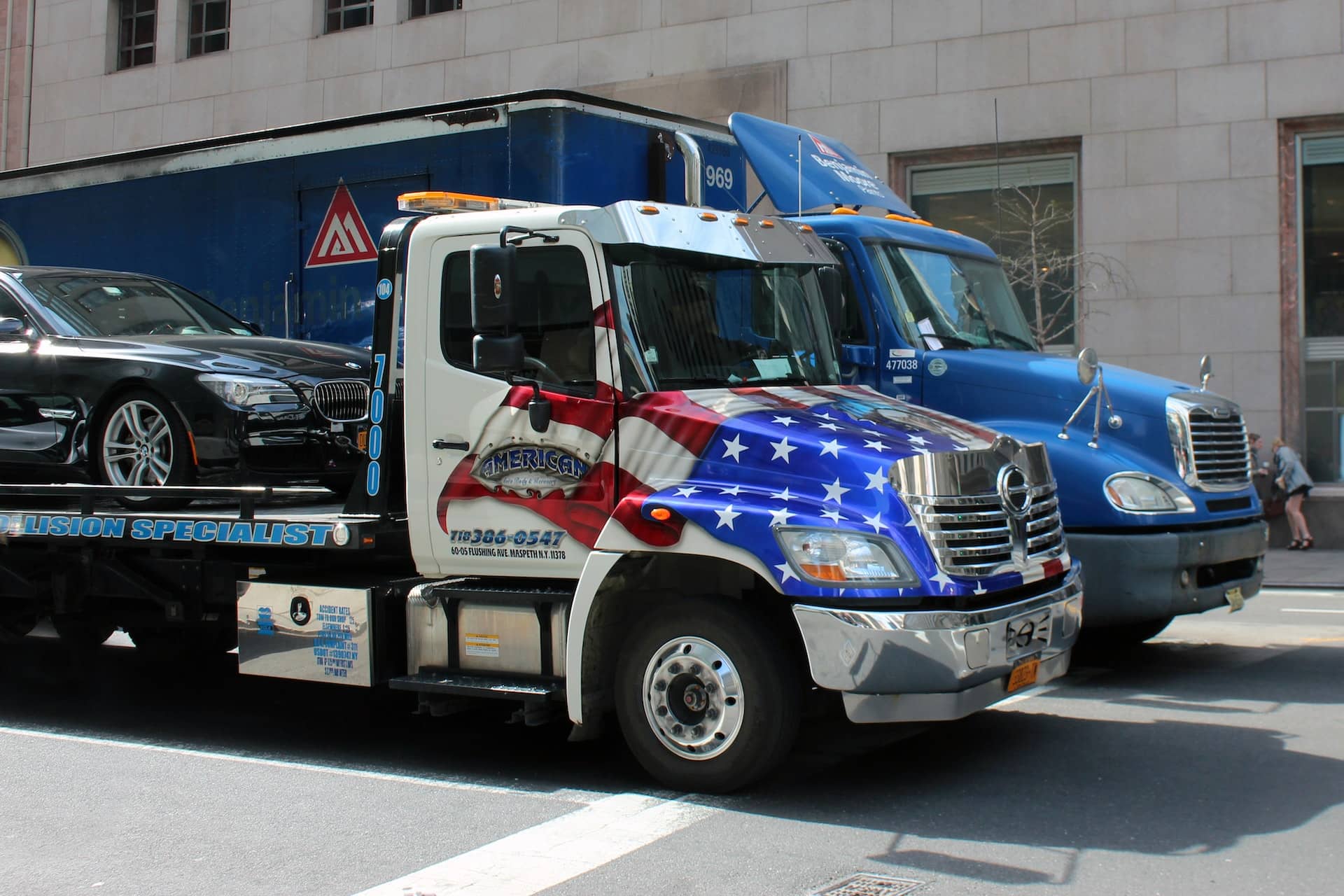 Tow trucks are lifelines when vehicles break down or become inoperable. While vital, the towing business has its risks. A lot can go wrong while loading or unloading a vehicle – not to mention the risk of accidents while on the road.
If you run a commercial towing business, insurance is crucial. The right policies and coverage will protect your business against financial risk.
Tow Truck Insurance Requirements
Do you really need tow truck insurance? If you're asking this question, then the answer is likely yes. If you run any kind of towing-related business, you need tow truck insurance. This includes:
Auto salvage companies and auction haulers
Companies that provide roadside assistance
Auto body and repair shops
Towing Insurance Requirements
Insurance requirements for tow trucks will vary from one state to another. Often, there are no specific requirements by law, but some states will require $100,000 or $300,000 in liability.
As a general rule of thumb, tow trucks should have at least $1 million in liability, even if the state only requires $100,000. Claims can easily exceed this amount, which would leave you having to pay for costs out of pocket.
Many experts recommend getting enough insurance to at least cover the cost of the average vehicle you tow.
Businesses that tow high-value vehicles may need more insurance than a company looking for wrecker insurance coverage.
In addition to liability, tow truck insurance should also include:
Property Damage Liability: This policy will cover physical damage to another party's property.
Medical Payments Insurance: This policy will cover the cost of medical care for injuries in an accident.
Uninsured/Underinsured Motorist: If the tow truck is in an accident and the other driver doesn't have enough insurance or has no insurance at all, this policy will cover the cost of injury and repairs. This coverage also comes into play if you are the victim of a hit-and-run accident.
These are the most important coverages for tow trucks to have, but you may have additional risks that need to be covered. There are also specialized policies to cover other risks.
Specialized Policies
Towing is an industry with unique risks, and specialized policies will be needed to safeguard your business's finances.
Tow truck businesses often have the following specialized policies:
Cargo Coverage: When towing vehicles, there is always a risk of damage or theft of items inside the vehicle. Cargo coverage will protect against theft and damage of items inside the vehicles you tow.
On-Hook Towing Insurance: This coverage was created for towing companies. It covers the cost of repair or replacement due to damage to vehicles you are towing (while they are on-hook). It may cover damage caused by fire, theft, vandalism, accidents and more. It does not cover damage or theft of any items inside of the vehicle.
These specialized policies are essential for tow truck businesses. Anything can happen while your tow trucks are on the road, and these policies give you peace of mind that you're protected against financial risk.
Other Insurance to Consider
In addition to the essential insurance policies listed above, there are other insurance products that tow truck companies should consider, including:
Commercial Property: This policy will cover your property as well as your equipment, tools and cars inside.
Garage Liability: This umbrella policy extends your general liability coverage to ensure you're protected against risk.
Garage Keepers Insurance: This policy will protect your business if a vehicle is damaged or stolen while parked at your lot or garage. It covers the cost of repairs or replacement if the property is damaged beyond repair.
It's important to consider all of your risks as a tow truck business and find coverages that will help protect against them. While insurance adds to your expenses, you will be happy you purchased coverage if your tow truck is in an accident or a customer's property is stolen. Read more about our recommended commercial trucking insurance coverage.
Top 6 Towing Insurance Companies Offering Customized Wrecker Coverage
Now that you know which coverages are essential, you may be wondering where to buy your insurance. There are many insurers that offer tow truck insurance, but some of the top companies include:
1. Progressive Tow Truck Insurance
Progressive is one of the leading insurance companies in the United States. They have been in business since 1937, and they offer a number of coverage options for tow trucks through their commercial insurance arm.
Their coverage options include:
Liability Insurance, which includes bodily injury and property damage liability coverage. This policy will cover the cost of injuries caused by an accident as well as the repair or replacement of third-party property.
Medical Payment Insurance, which covers medical care for drivers and passengers in their vehicles.
Physical Damage, which covers the cost of repairs to your vehicle due to an accident. It includes collision, comprehensive and fire and theft.
Uninsured Motorist, which covers the cost of injuries if the other party is underinsured or uninsured.
On-hook Towing Insurance (only available for towing or service station business, or trucking for hire).
Garagekeepers Legal Liability. To obtain this coverage, you will also need on-hook towing and liability coverage.
Progressive is known for having fast and friendly support as well as a simple process for submitting claims. There's a reason why they are one of the leaders in the insurance industry.
2. Freeway Insurance
Freeway Insurance is a part of the Confie family of companies, and they have been in business since 1987. Today, they have a team of more than 2,000 employees helping clients with their insurance needs.
When it comes to tow truck insurance, the company offers customized options. Their coverages include:
Liability: Covers injury and property damage caused by tow truck drivers to other parties. This policy includes injury and property damage liability.
Medical payments: Covers injuries to tow truck drivers and passengers in the vehicle.
Physical damage: Covers repairs to the tow truck due to an accident, fallen tree or other covered peril. This policy includes collision, comprehensive and fire and theft.
Along with these vital coverages, Freeway also offers:
On-hook towing insurance
Garagekeepers legal liability
3. Horton Tow Truck Insurance
Horton offers tow truck insurance for owners and operators. They have been serving customers for more than 25 years.
Their tow truck insurance coverage includes the following:
General liability
Surety
Workers' compensation
Employee benefits (group medical, FSA/HSA, retirement and more)
Cargo
Car on hook
Garage keeper's legal liability
Inland marine
Physical damage
They also offer up to $10 million in umbrella insurance coverage for companies that need it. Horton's insurance options are comprehensive and meant to address the unique risks of tow truck companies.
They also offer affordable payment plans to make their coverage more accessible to businesses.
4. Prime Insurance Company
Prime has been offering insurance to tow truck companies for over 40 years, making them one of the industry's most trusted companies. The company knows that the tow truck industry is filled with complexities and variables, causing a one-size-fits-all policy not to work.
Instead, Prime will work to write a customized insurance plan for special towing companies that need it.
The service area is vague, with the insurer stating that they can insure tow trucking companies in most states. However, you can easily request a quote from them on their website to determine if you're in their service area.
Custom insurance is available for new and experienced drivers alike.
Prime knows that many insurers are turning away tow trucking businesses due to the high risk involved. The team will work with you to get to know your business and write an insurance plan that leaves no gaps in your coverage.
Multiple coverage options are available, including:
Commercial Auto Liability
Commercial Auto Physical Damage
Contingent Auto Liability
Dealer Plate / Transport Plate Liability
Excess Auto Liability
Hired & Non-Owned Auto Liability
New Operators Coverage
Towing and repossession companies, tow truck drivers and all sorts of tow trucks are covered classes. Policyholders will work with in-house teams, which will help manage everything from customizing your insurance to claims if you ever need them.
Someone will pick up the phone 24/7, so you have someone who you can rely on if you're in an accident.
5. CNS Insurance
CNS Insurance offers towing company insurance to help towing companies limit their risks and offer the best service possible to their customers. Insurance through this provider is fast and easy to obtain with a lot of options:
Liability insurance to protect from potential liability claims against your business or driver.
Medical payments insurance to cover the bills of all drivers and passengers injured in an accident.
Uninsured motorist insurance to help limit the risk of an uninsured motorist leaving you with huge repair bills or truck replacement.
Physical damage coverage to cover repairs to your rig.
On top of these insurance coverage options, you can also obtain on-hook towing insurance, garagekeepers legal liability insurance and general liability tow insurance. A mix of insurance products is available to protect your operations from potential liability risks.
Coverage is available no matter the towing operation that you have, including towing companies that drive for:
Auto body shops
Mechanics
Full-service stations
Roadside service providers
More
CNS Insurance allows you to request a quick quote right on their website, or you can call them directly to have a quote generated for you. The company is headquartered in Pennsylvania. They'll work with you to navigate the complex insurance landscape so that you have the insurance you need to operate legally.
6. National Interstate Insurance
National Interstate Insurance offers its own TowCap Premier insurance to help shape the options available to operators. The insurer started offering towing operations since 2004 and will insure:
Flatbeds
Rollbacks
Tractors
Tow trucks
Wreckers
TowCap launched in 2017 with a commitment to tow truck operators who have a commitment to safety. A one-stop shopping experience and options for large fleets are just the start of what the program offers.
Coverage options also include:
15 power unit minimums for large fleets
Auto damage
On-hook coverage
Cargo
$1m auto and general liability limit
GarageKeepers legal liability
Excess liability
Additional coverage options
National Interstate Insurance operates out of Ohio and will work with you to underwrite a plan that offers you and your fleet the maximum coverage possible. Stable growth and strong driver profiles and standards when hiring are just some of the requirements to join the TowCap program.
In-house claims handling is provided, so if you have any claims to make, you can be sure that there is an agent ready and willing to help you file a claim.
Guaranteed deductibles further help you protect against liability risks and save money on your insurance.
Tow truck insurance is a must-have. Anything can happen on the road, and even the safest truckers get into accidents. Obtaining an insurance policy from one of the above insurers will allow you peace of mind when running your business.