Commercial Trucking Insurance for Truck Drivers & Owner-Operators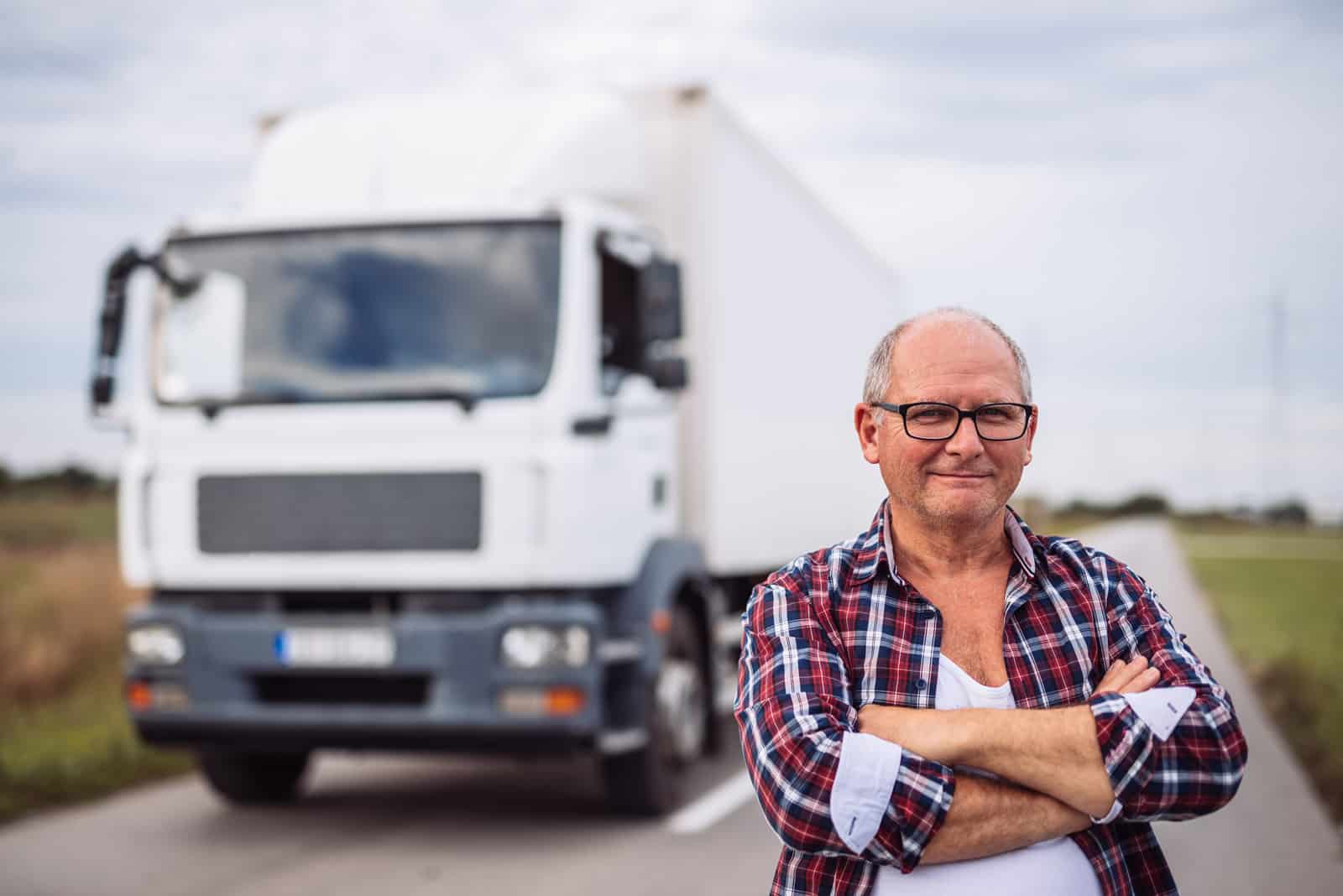 If you are a truck driver or owner-operator, one thing you need to do to operate legally and safely is to purchase commercial trucking insurance.
In this post, we will introduce you to some top insurance companies for trucking. Below those recommended companies, you can view our full guide to purchasing commercial trucking insurance. But first, you might be wondering if you are in the right place.
You need commercial trucking insurance if you are:
An owner-operator (unless you are leasing your truck(s)).
What are the Top Truck Insurance Agencies?
1. Progressive
Few names are as well-known in the arena of insurance as Progressive. As it turns out, many trucking professionals choose them for their coverage needs.
Pros:
There are policies for semi-trucks, front loaders, box trucks, tank trucks, auto hauler trailers, and so much more at Progressive.
This company files for free on your behalf with regulators.
You can get a 5% discount by sharing your Electronic Logging Device (ELD) data with Progressive. This program is called Smart Haul®.
If you bundle policies at Progressive or use autopay, you can qualify for discounts.
Cons:
There is a limit to the fleet size Progressive is willing to cover.
Best For:
Progressive is the top overall company we recommend using for your commercial truck insurance needs. Their range of policies along with their discounts make them ideal so long as your fleet does not exceed their cap size.
2. Gallagher
Gallagher insures more than 275,000 trucks globally. Why are they a top choice for so many trucking professionals?
Pros:
You can find a range of owner-operator policies and third-party logistics policies at Gallagher. Some of these third-party coverages are policies you will have a hard time finding elsewhere.
Gallagher does well scoring driver safety through its advanced accident avoidance tech.
If you need to buy workers' compensation policies, Gallagher is a great source since they have special expertise.
Cons:
We seriously are hard-pressed to come up with anything. In fact, they offer so much that you might not be sure where to begin. Is that a drawback? If so, just ask one of the company's friendly customer service agents for help picking policies.
Best For:
Like Progressive, this is one of the best choices in general for trucking insurance, but it is especially suitable if you want third-party logistics coverage.
3. The Hartford
This company has been helping truckers, owner-operators and others with their commercial auto insurance for more than two hundred years.
Pros:
You will find policies for semi-trucks, refrigerated trailers, dry freight trailers and more.
The Hartford lets you personalize your coverage to fit your business.
This company is less likely than others to turn away high-risk drivers.
There are discounts for safe drivers.
The purchase of a policy from The Hartford includes free extra business auto protection.
Cons:
The Hartford is not ideal for owner-operators with one truck only.
Best For:
Choose The Hartford if you have a fleet of vehicles and/or you are trying to insure a high-risk driver.
4. Liberty Mutual
Liberty Mutual is one of the largest names in insurance, and no doubt you are familiar with them from their advertisements. They also happen to be a solid choice for trucking insurance.
Pros:
You can personalize your policy to suit your requirements.
This company is renowned for their simple and streamlined claims process and the claims-related tools they offer customers.
Cons:
This company does receive a significant number of customer service complaints.
Best For:
Consider picking Liberty Mutual if you are concerned with making sure you will have a quality experience should you need to make a claim.
Legal Requirements for Truck Driver Insurance Coverage
You can take a look at the basic legal requirements for insurance for trucking at the Federal Motor Carrier Safety Administration (FMCSA).
According to the requirements, you must purchase public liability insurance.
Public liability insurance provides coverage should you damage someone else's property or injure another person.
Here are the minimum requirements for public liability insurance based on your freight type:
Non-hazardous freight in a truck under 10,001 pounds: $300,000.
Freight in a truck weighting 10,001 pounds or more: $750,000-$5,000,000.
As you might guess, the highest requirements are for hauling hazardous materials.
Along with meeting basic legal requirements, you might need to meet additional insurance requirements if you are doing business with a company that mandates them.
It also is generally wise to purchase more insurance than the law requires just to be on the safe side should there actually be an accident.
Types of Commercial Truck Insurance
There are quite a few types of insurance policies that commercial trucking professionals may purchase. These include the following:
Public Liability Insurance: As already discussed, this is the type of coverage that helps offset costs to the property or bodies of other people.
General Liability (GL) insurance: This is a broad type of policy that covers a range of scenarios such as mistakes made by you or your employees, injuries on your premises, etc. Every owner-operator should carry this type of coverage.
Physical Damage Insurance: This type of policy covers damage to your vehicle in case of an accident. Along with collision coverage, be sure to purchase comprehensive coverage, which will help in the case of theft, vandalism, fire, etc.
Motor Truck Cargo Insurance: You can get this coverage for the items that are in your trucks. If something happens to them, you can use the policy payout to offset the cost of reimbursements for customers.
Bobtail Insurance: If you are involved in an accident wile you are "deadheading" the truck without the trailer attached, you would need bobtail insurance to cover it.
Trailer Interchange Insurance: If you intend to participate in trailer interchanges, then you will require this type of coverage.
Non-Trucking Liability Insurance: In order to have coverage when you are driving your truck without cargo in it, you need this form of insurance.
Non-Owned Trailer Physical Damage Insurance: For a trailer interchange policy to cover damages in an interchange scenario, you need a written agreement for the arrangement. But if you did not sign such an agreement, that type of policy would not cover you should something go wrong. But you can get coverage through non-owned trailer physical damage insurance.
Uninsured Motorist Coverage: If you are hit by a vehicle with an uninsured driver, you cannot turn to their insurance for a payout on damages. Uninsured motorist coverage helps you out in these situations by covering those damages.
Medical Payments Coverage: This is coverage for an injury to the driver or passengers in your vehicles, as opposed to coverage for members of the general public. You might not require it if you have personal health insurance or workers' comp covering the same things.
Occupational Accident Insurance: Employees get covered by workers' compensation for accidents, but contractors do not. That is why if you work as a trucking contractor, you will need to buy occupational accident insurance. It fills the same basic role.
Workers' Comp: Owner-operators need to purchase workers' compensation if they have employees. Not only do you need it to help you cover costs, but you also need it to abide with the law.
Contingent Liability Insurance: This is a highly specific form of coverage that comes into play in situations where, as an owner-operator, you mistakenly misclassify an employee as a contractor. If the worker gets injured, hypothetically, they should receive workers' comp. But since you didn't classify them right, they won't. Contingent liability insurance can cover you in case of a lawsuit.
Specialized Coverage: There are a number of types of specialized insurance policies for trucking. Some examples include coverage for hauling livestock, policies for hauling steel, refrigerated truck insurance, towing insurance and tanker truck insurance.
Umbrella Policies: Another name for umbrella coverage is "excess liability coverage." You can purchase this type of insurance to help ensure you will have adequate coverage if you end up exceeding the limits on your other policies. Of course, you might still end up exceeding the umbrella coverage limit, but hopefully not.
How Much Commercial Trucking Insurance Cost?
For primary liability semi truck insurance coverage, we have seen a general estimate of $2,000-$7,000 per year. That is a pretty wide range just for one type of policy.
What are some of the factors that can drive trucking insurance costs up or down?
Types of coverage. Well, first of all, if you are purchasing a whole bunch of policies rather than just primary liability coverage, that will increase your insurance costs. But it may be necessary, depending on your business.
Amounts of coverage. If you select higher limits for your policies, they will be more expensive. Lower deductibles also will result in more expensive policies.
Where you operate. What you will pay for insurance if you make long distance runs will be different than what you would pay if you are just doing local deliveries.
The size of your operation. It costs a lot more to insure a large fleet of vehicles than a small fleet or a single truck.
Your credit score. Having a high credit score can put you at an advantage when you are shopping for trucking insurance policies.
Your experience. If you have been in the trucking business for a long time, you may receive more competitive quotes on insurance than you would if you are totally new to it. So, for example, a trucker who has years of driving experience who is now becoming an owner-operator may pay less for policies than a new owner-operator who does not have years of driving experience.
Your driving history. Those with cleaning driving records may qualify for better rates than those who have black marks on their records. Indeed, a lot of companies will not even insure drivers who have poor records. Thankfully, there are some out there who are sometimes willing to look past these problems.
Any penalties on your record. You may have to pay more for your trucking insurance if you have OOS violations or MVR reports.
What To Look For When Shopping For Trucking Insurance Companies
Here are some things that can help you determine whether a trucking insurance company is the right fit for you.
The right policies for your needs. If you just need the most basic types of policies, you probably can find what you need at quite a few different insurance companies. But if you need fairly specialized policies, you might have fewer options from which to choose. In some scenarios, you might find yourself buying policies from more than one company.
A company that is the right fit for your fleet size. Some companies work with fleets of all sizes. Others may have a cap that prevents owner-operators of very large fleets from working with them. Still others might have limited options for the owners of very small fleets or single vehicles.
The claims process. Check what is involved with the claims process and how smoothly you can expect it to go. What are the steps involved, and does an in-house team handle them? Find out whether the company provides tools to policy-holders to help them monitor and manage their claims.
Your record. If you are a high-risk driver, check into whether the company you are interested in working with will be equally interested in working with you. Some companies may turn you away, but others may consider you.
Discounts. Look into what discounts are available for bundling policies, driving safety, etc.
Customer service. We suggest that you test customer service firsthand to see what dealing with them is like. You can simply pick up the phone and ask them a few questions to see how they respond. Consider using email or text chat as well to check how they do over different communication channels. If you have a poor experience testing customer service, move on to another company. If you have a great experience, you can feel more confident taking out a policy.
Price. It makes sense to go with the lowest price for your policies, all things being equal. Just make sure you are balancing budgetary considerations with the quality of the policies.
Reviews. Finally, take a look at reviews for different commercial truck insurance companies. Consistent good ratings are a sign you are looking at a company that may be worthy of your business.
Get Your Custom Commercial Truck Insurance Quote Now
That wraps up our guide to insurance for commercial trucks! Now you are familiar with the different types of policies, what to look for in quality coverage, and what factors impact your costs. If you are ready to shop for coverage, click below for your commercial truck insurance quotes.