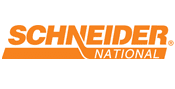 The Schneider Trucking company is widely considered as the leading service provider when it comes to your business' logistics requirement and transportation prerequisites.
Having received various commendations from both industry professionals and private award giving bodies, the Schneider National company is truly the smartest choice when it comes to supply chain management. Some of the most noteworthy awards that the company has garnered in the past include the VICS Collaborative Commerce Achievement Award: Best Third Party Provider (2009), Top 100 Most Important People in the Transportation Industry (2009), American Business Awards Finalist: Corporate Social Responsibility Program of the Year (2009), Inbound Truckload Carrier of the Year Award (2008), Award for Transportation Excellence (2008), American Carrier of the Year, Shop Supervisor of the Year, and Best Fleets to Drive For among many others.
The aforementioned recognitions are made possible through the company's sustained dedication toward three main business priorities.
Quality Service – Over the course of its active presence in the industry, the company has unwaveringly offered only the best kind of service to its clients. Its list of services covers a wide array of business solutions including Truckload Management, Intermodal Shipment, Logistics, and even Brokerage. All these services have been carefully outlined so as to give exactly what a particular client signed up for.
Safety Handling – The people behind this company have been equipped with high regards toward the service they provide. That said each member of the team have been instilled with all the requisite ideals for effective service. One of the company's most prioritized business elements is safe handling of the client's business particulars. Through this, the company's patrons are assured that their shipment goes on as planned and as expected.
Reasonable Costing – Working with Schneider Trucking is cost efficient compared to other companies that render the same services. We have been in the business for a considerable period of time because we have consistently imposed a mutually rewarding endeavor between us and our clients.
Jobs with Schneider Trucking
If you want to be part of an incredible company that takes care not only of its clients but as well as its employees and members, then you can always choose from the wide array of job offers within the business. Here are the Schneider Trucking you might want to consider.
Company Drivers – If you are a skilled and responsible driver, then you are very much welcomed in the team. For as long as driving is your gift, traveling is your passion, and product shipping is your purpose, then you have a place with Schneider.
Owner/Operators – Schneider is also open to franchisees. If you want to run your own Schneider business, you only have to study the terms and stipulations of the company and determine whether if it is something that suits you. Or if you want to apply as an operator for our location-based branches, a rewarding career awaits for you.
Office Careers – If you are the office type and want to be one of the behind the scene forces of Schneider, there are many office-based jobs which you may entertain applying for.
Maintenance Careers – People who have a knack at fixing things, then you may very well be what we are looking for. Maintenance careers with Schneider will further hone your skills in troubleshooting thus giving you an enhanced professional advantage.
Warehouse Careers- Schneider is in need of people who are willing to be stationed in our warehouses all over the country as well as abroad. If you are a hardworking and trustworthy professional, this is indeed the job fitted for you.
The Schneider Trucking School
The company also offers free truck driving courses in Schneider schools located all over the country. This is the company's strategy in terms of its effort to produce homegrown and skilled truck drivers that understands the company's standards in service quality and safety.
When it comes to business solutions that maximize your investments and optimize results, it is important to work with a company with a proven and tested track record. No matter what business industry you are part of, it is necessary to have an ally who considers your business as more than just a patron or client, but an esteemed colleague or indispensable partner. Such is Schneider Trucking company's mission and vision.
---
For more information please visit the official Schneider website online @ http://www.schneider.com.