How to Start a Box Truck Business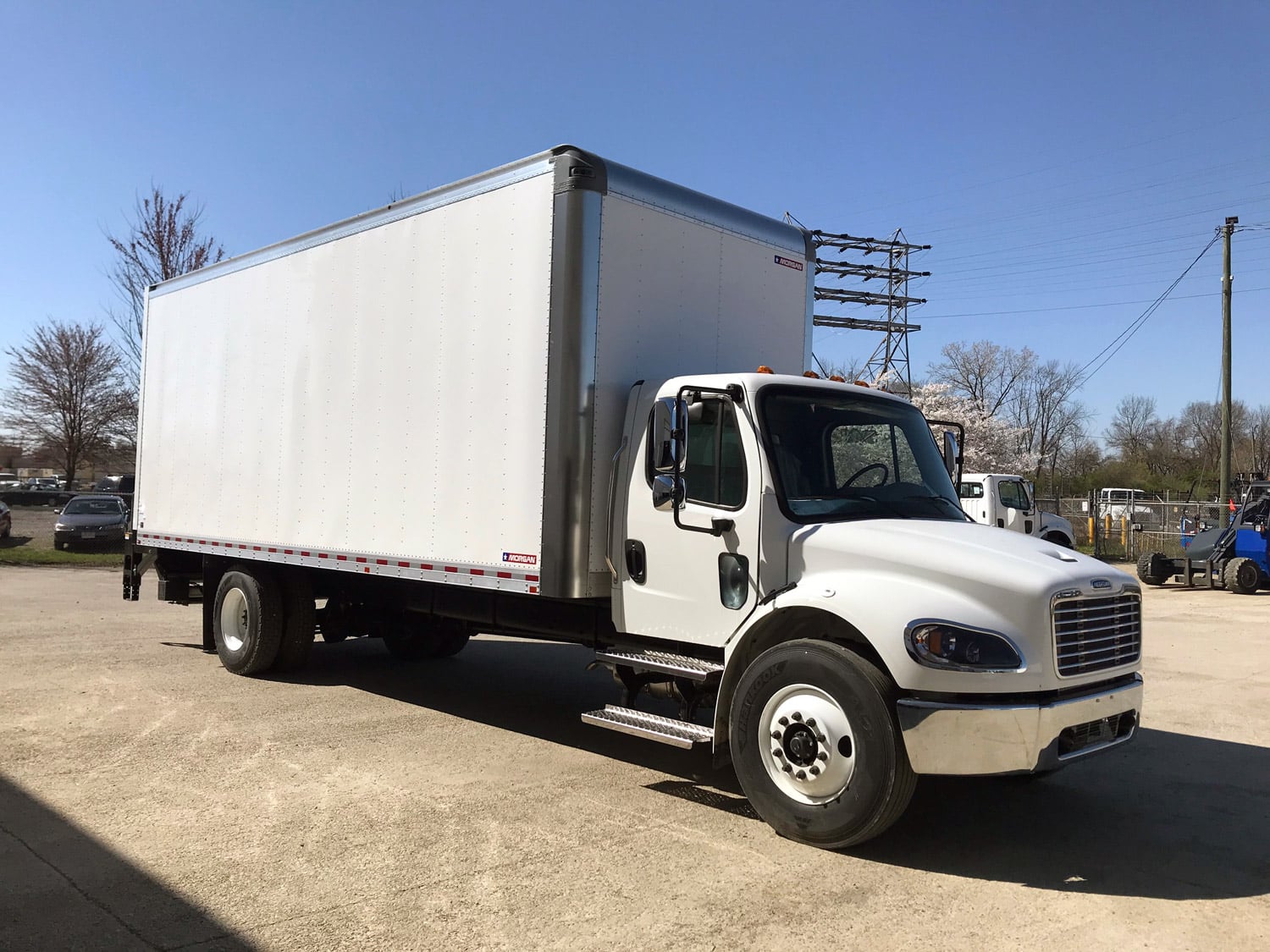 If you are looking for a job that offers you freedom and the potential to earn a great salary, you might consider starting a box truck business. The entry barriers are low and the rewards can be competitive.
In this in-depth guide, we will walk you through the steps to start a box truck business. But first, let's talk a little bit more about the reasons for going into this field.
What is a Box Truck?
First of all, you might be sure exactly what a box truck is. A box truck is a one-piece vehicle (not a trailer) that features a cargo area with a cuboid shape. Other names for a box truck include "box van," "cube truck," "bob truck," "straight truck," and "cube van." Although the cargo area is attached to the chassis, the cabin and cargo area are separate.
Box trucks are available in a number of sizes. Lengths start out around 10 feet and range up to around 26 feet. Gross vehicle weight ratings can range between 12,500 pounds and 33,000 pounds.
What Types of Jobs Can You Do With a Box Truck?
If you own your own box truck, there are a variety of ways you can use it to generate revenue:
You can use your box truck to make deliveries.
You can get into the moving business.
You can let other people rent your box truck.
Additionally, you may be able to display advertisements on your box truck for extra income.
Why Start a Box Truck Business?
Here are a few reasons a box truck business is a great idea:
Barriers to entry are low. If you can afford to lease a truck and pay a few other startup expenses, you can get started. You do not even need a college degree. In fact, you can become a box truck driver even if you never completed high school.
The trucking industry continues to grow. As the American Trucking Associations (ATA) report, we can expect a 36% increase in freight volumes between 2020 and 2031.
Demand is high in trucking altogether. As you probably are aware, trucking features a high turnover rate, so there is always a need for fresh blood.
You can earn a good salary as a box truck owner-operator (see below).
Box Truck Owner-Operator Salary Potential
To find out how much box truck owner-operators make, we can start by taking a look at the salaries ZipRecruiter lists for box car drivers.
As of the time of this writing, the national average salary for a box car driver as listed by ZipRecruiter is $38,447 per year.
The site has drivers at the lower end earning $20,500 per year and those at the higher end earning $59,000 per year.
Since you will be an owner-operator, however, your earnings potential reaches far beyond what you see listed for drivers.
ZipRecruiter offers data for box truck owner-operators as well. The national average salary is an impressive $106,319 per year.
Owner-operators at the lower end are making around $33,000, but those at the upper end are earning around $264,000.
Some factors that can impact what you earn include:
Your location
The sizes and types of loads you haul
How many loads you haul per seek
What companies you choose to work with
Your experience and reputation
What are the Estimated Startup Costs for a Box Truck Business?
"Great!" you may be thinking. "Earning more than $100,000 per year sounds awesome. But how much do I need to break into the industry?"
A general cost range to get into driving your own box truck is about $6,500-$14,000.
The biggest expense by far is going to be the truck itself and associated equipment. You can either purchase a used vehicle outright, or you can lease a new or used truck. This will account for around $5,000 to $10,000 of your startup costs.
You will also need to get the licenses, permits and insurance you need to legally operate, and set up your business with the government. Additionally, you may need to invest in marketing materials. These will account for the remainder of your costs.
When you think about it,$6,500 to $14,000 to start a business that can pull in more than a hundred grand a year is not bad at all!
How to Make Money With a Box Truck: Step-by-Step Guide to Getting Started
Now you have some great reasons to get into running your own box truck business. But how do you make it happen? Here are the steps to getting started with a career as a box truck owner-operator.
1. Decide on what services you want to offer and what clients you want to work with.
To start an effective, successful box truck business, you need to go in with a plan. Sit down and do some brainstorming. Where will you operate? Will you be the only driver, or will you hire drivers? Will you run your business out of your home or a storefront? What types of cargo do you want to haul? Who is your typical customer?
When you are excited to start a new business, it is easy to get pulled in and think that just because you want to do something, that means demand exists for what you want to offer.
But that is not always the case. You can avoid that trap by researching demand in your area and finding out what niches you could fill. Structure your business idea around existing demand rather than trying to drum up demand that does not exist.
2. Register your business and select a structure.
Decide whether you want to operate as a sole proprietorship, a general partnership, an S corp, a C corp, or a limited liability company (LLC), and register your business with the proper authorities.
While there are pros and cons to each of these, most people starting box truck businesses choose to structure as LLCs. Some of the advantages of structuring as an LLC include pass-through taxation and liability protection.
While you are registering your business, be sure to get your employer identification number (EIN), which you will need to file your taxes. You are also going to want to register for the online federal and state tax portals so you can submit your estimated tax payments quickly and easily without needing to go get money orders.
3. Get the licenses and permits you need to operate.
Do you need a CDL to drive a box truck? Yes! You cannot legally drive a box truck without one.
Additionally, you will need to get the Federal Motor Carrier Safety Administration (FMCSA) to assign you a USDOT number and a motor carrier (MC) number. You also will need to file a Form BOC-3 with the FMCSA. If you will be crossing state lines, you must apply for International Registration Plan (IRP) credentials and put International Fuel Tax Agreement (IFTA) decals on your truck.
4. Purchase or lease your box truck and other equipment.
While you are getting all that paperwork out of the way, you can look for a box truck to buy or lease.
Sometimes you can find some great deals for purchasing trucks outright. Other times, you might need to put a down payment on a truck and pay it off gradually as you start earning money.
Do not forget about the other equipment you will need to do your job, like furniture pads, dollies, shelves, etc.
Exactly what you need will be determined in part by what you plan to haul.
Hopefully you have the cash you need to cover all your startup costs. If you do not, you can look into SBA-guaranteed loans, government grants, personal loans, P2P and crowdfunding, etc.
5. Get set up with box truck insurance.
Next, you will need to take out a commercial truck insurance policy. In fact, there are actually some companies that offer insurance specifically for box trucks. Along with this basic coverage, there may be additional types of coverage you need, depending on how you run your business (for example, if you employ workers, you will need workers' comp insurance).
6. Set up a business bank account.
Things can get complicated quickly if you are trying to manage your business and personal finances together, so it is a smart move at this point to open a business bank account. Come tax season, you will be glad you did.
7. Pick a location and hire employees (optional).
You can either:
1-Work from home.
Or …
2-Open a storefront or office somewhere (this could grow to be multiple locations over time).
You will need to weigh the costs and benefits of opening a location and decide whether it is worth it for you.
Since you are new to the business, the most cost-effective route is probably going to be to just run your business from home, especially if you have no employees and you will be the only driver for now.
8. Find work.
You might think you are just about done at this point, but the hardest work is still ahead of you, and that is to start finding straight truck jobs.
Not sure how to make money with a box truck? If you start advertising, some work might start finding you. But you can also proactively go out there and get work.
A great starting point is to begin checking load boards for box truck contracts. On load boards, you will be able to view thousands of jobs that need to be claimed. You can search through them to find work that is suitable for your vehicle and area of service.
Load boards can be either free or paid. Free load boards may help you out to start if you are on a tight budget, but it is a good idea to sign up for some high quality paid load boards as well (trust us, they should pay for themselves in no time).
Then you are going to want to join the Amazon Relay load board. This is where Amazon posts jobs that are open to third-party carriers like yourself.
What is cool about Relay is the system can match you to jobs, which can make it easier to find loads that suit you.
That said, Relay has specific requirements you will need to meet if you want to participate.
A lot of those are things you already took care of in previous steps, like getting a DOT number and an MC number.
You will also have to demonstrate a certain level of safety as a driver, and you will need to make sure you are carrying the minimum required insurance. After that, it is just a question of applying and awaiting approval, which usually takes just a couple of business days. You can then get to work.
Along with load board, you can turn to truck dispatchers to help you locate jobs. In fact, truck dispatchers can search boards for gigs on your behalf, saving you time.
If you are moving peoples' personal items instead of cargo, you will need to turn to other resources to find jobs. Some recommended sites include homeadvisorpros.com, Dolly, taskrabbit and thumbtack. If you want to rent your truck out to others, you can list it on sites like fluidtruck.com and coop.com.
As you can see, there are a lot of avenues to explore that go beyond the simple recommendation "Just advertise."
In fact, we would recommend that you focus more on load boards in the beginning; it is easy for a newly self-employed person to overspend on advertising when there are other opportunities already waiting at low or no cost.
As you start successfully hauling cargo, networking, and building connections, doors to new and greater opportunities should open.
Launch Your Box Trucking Career Now
Now you know how to start a career as a box truck owner-operator step-by-step. While starting up a new business involves time, work and resources, box truck owner-operator jobs can pay nicely. Hopefully it will not be too long before you are earning more than $100,000 a year.