If you are looking for a fast and easy way to fill up your freight schedule with reliable and flexible contracts, you might consider the Amazon Relay program for carriers. In this post, we will introduce you to the program, how it works, its benefits, and how you can get started.
What is Amazon Relay?
Every day, Amazon ships out around 1.6 million packages. Not surprisingly, the company needs the help of third-party carriers in transporting those packages. That is where the Amazon Relay program comes in.
Through Amazon Relay, a carrier can sign up for access to the Amazon Relay Load Board. You can use this board to find jobs for your fleet.
If you are an owner operator and have trucks sitting idle, you also can post them. Rather than hunting down work for them yourself, you can take care of other priorities while Relay finds you jobs.
Amazon Relay also provides an app called Relay for Driver. This app provides functionality such as scheduling, notifications, check-ins, and commercial navigation recommendations. Your drivers can use the app to increase their overall efficiency on the road.
There seems to be some confusion as to whether Amazon Relay is the same thing as Amazon DSP. Some people use these terms interchangeably.
Actually, these are two different programs. DSP stands for "Delivery Service Partners."
What is Amazon DSP? This is a program you will find at https://logistics.amazon.com/ rather than https://relay.amazon.com/.
Amazon DSP drivers handle local package deliveries in Amazon vans. That is different from Relay, which is a program specifically for truckers.
What these two programs have in common is that both allow independent owners and drivers to team up with Amazon to transport packages.
The difference is that DSP drivers and Relay drivers handle different parts of the delivery process:
A customer places an order.
A Relay driver handles long distance transportation of goods.
A DSP driver handles local delivery of an item.
Another difference is that you can lease Amazon-branded vans for DSP. But for Relay, you need to bring your own vehicles (you also can bring your own vans for DSP if you prefer).
Neither Amazon Relay nor Amazon DSP jobs are necessarily "superior" to the other—it all just depends on what you are equipped to handle.
If you have a fleet of trucks, then you are looking for the Amazon Relay program. If you have vans, you might consider the Amazon DSP program.
Looking for something more like DSP, but for trucking? Take a look at https://freightpartner.amazon.com. This is the Amazon Freight Partner program.
Through the Amazon Freight Partner program, you can use trucks Amazon provides. So, it is essentially the trucking equivalent of DSP.
How Does Amazon Relay Work?
Okay, now we have cleared up the differences between Relay, DSP and the Freight Partner program. Let's return to talking about Relay. What can you expect after you join?
Amazon Relay can work in either of two ways. You can find a job by searching for one, or you can let the system match you with one. Here are how both of these options work:
Load Board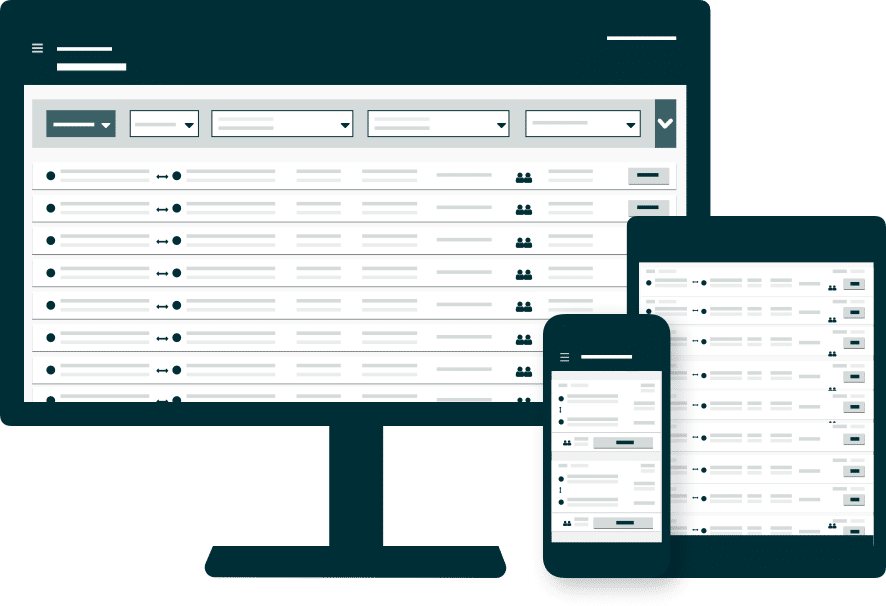 1. Join Amazon Relay.
2. Check the load board for jobs.
3. Select jobs for your drivers.
4. Accept contracts and fulfill them.
5. Get paid.
Pretty simple, right? This is a great way to find more work. Millions of packages a day can add up to plenty of opportunity for Relay carriers.
Post a Truck
1. When you have a truck available for work, post its location and when it will be available.
2. Kick back and relax while Relay matches your truck to a job.
3. Confirm the job and fulfill the contract.
4. Get paid.
This is an excellent way to make sure that your trucks are always working for you, and to spend less time searching for work.
What are the Benefits of Amazon Relay?
Quickly expand your trucking business with a stable, reliable source of ongoing jobs and revenue. Reduce uncertainties and prevent lost revenue by ensuring your trucks constantly have work to do and do not sit idle.
With single and multi-week contracts available, you can easily fill whatever spots you have available in your schedule. According to the Relay site, you should be able to keep your fleet booked out weeks ahead of time.
With the load board and the system for posting trucks, you have two options for how you look for contracts.
The app included with the program gives you tools to increase the efficiency of your team for faster runs and higher returns.
You can view your invoice history in real-time. Payments are sent out every week on Fridays. Since Amazon is a massive, well-established company, you can look forward to getting your payments on time every time.
Amazon Relay Requirements
From the Relay site, here are Amazon's requirements to join the program and start taking on contracts:
An active DOT number with interstate authority and a valid MC number
A "Carrier" entity type that is Authorized for Property and for Hire
A Federal Motor Carrier Safety Administration (FMCSA) Safety Rating of "Satisfactory," "None," or "Not Rated"
Behavior Analysis and Safety Improvement Categories (BASIC) scores:

Unsafe Driving below 60%
HOS Compliance below 60%
Vehicle Maintenance below 75%

All required insurance policies including:

Commercial General Liability not less than $1,000,000 per occurrence and $2,000,000 in the aggregate
Auto Liability not less than $1,000,000 per occurrence, including a trailer replacement coverage of $50,000
Cargo coverage of at least $100,000
Workers' compensation insurance in all jurisdictions where your company operates
Employer liability not less than $100,000 per occurrence
Amazon also lists the following service level expectations if you want to work as an Amazon owner-operator through Relay:
Compliance with safety, DOT and insurance requirements.
On-time delivery to delight our customer promise.
Consistent tender acceptance.
Execute loads using Amazon Relay technology.
You will receive a Amazon Relay Carrier Terms of Service as part of the onboarding process when you sign up for Relay. These terms of service will provide you with additional requirements.
How to Get Started Hauling With Amazon
Excited to move freight for Amazon through the Relay program? Here are the basic steps to get started.
1. Meet all of the basic requirements.
First, you are going to need to go carefully through the list of requirements we shared above to make sure you meet them all prior to submitting an application.
Register your business as a "Carrier" and apply for a DOT number and MC number through the FMCSA if you haven't already.
Make sure your BASIC scores and Safety Ratings are sufficient.
Finally, check your insurance coverage to make sure that you are meeting all Amazon insurance requirements.
2. Submit your application.
Next, you need to head here to apply for the program. If you do not yet have an Amazon account, you will need to create one.
3. Wait for approval.
Once your application is submitted, it is over to Amazon to review. During this time, you can focus on other aspects of preparing your business to start carrying Amazon loads.
The application review process is really fast. It should be completed in 2-4 business days. At that point, you will either be approved or rejected.
One thing you can do to speed the process along is to contact your insurance company if there is a delay.
Amazon states that the majority of delays during the approval process usually have to do with insurance verification. Sometimes, by taking action on your end, you can get the insurance company to provide the information Amazon is looking for in a more timely fashion.
4. Claim contracts and start working!
As soon as Amazon approves your application, you will be able to access the load board. That means that within just a few days after applying, you can claim your first contracts and get to work.
Amazon recommends that new Relay carriers take a look at the Amazon Relay Portal FAQs along with the operating guides the company provides. Both will offer you tips to help your business thrive.
5. Get paid.
Now you just need to get paid! Amazon writes "Payment cycle runs weekly from Sunday-Saturday. Everything completed before 23:59 Saturday will be paid out the following week on Friday."
Frequently Asked Questions
Q: What types of vehicles are eligible for carrying Amazon loads?
A: Amazon lists these types of equipment:
Tractor: Day cab, Box Truck, and Sleeper Cab
Trailers: 28' Trailer, 53' Dry Van, and Reefer
Amazon states they "work with" this type of equipment. Their FAQ is vague as to whether they are referring to their own equipment or third-party equipment owned by carriers.
Q: Along with the Relay app for drivers, what other technological capabilities does Amazon provide to carriers?
A: Relay's software provides you with the tools you need to assign drivers to specific contracts you claim, monitor performance, check invoices, and keep track of your payments. If problems come up during your contracts, you can also use the system to reach out to Amazon's operational support team.
That team is there for you 24/7. So, no matter what time of day it is, you will be just a message away from the help you need.
Q: Is Amazon Relay right for me?
A: If you meet the basic requirements for Amazon Relay eligibility, there really is no reason not to apply.
It is up to you what contracts you accept. It is a flexible way to increase your access to potential jobs. The less time you spend looking for work, the more time you can spend actually doing work and making money.
Claim Contracts Through Amazon Relay Now
Through Amazon Relay, a world of opportunity awaits you. When you join, you get instant access to a load board with a huge number of daily contracts up for grabs.
Ready to start filling your schedule with Amazon trucking contracts? Click here to apply now for the Amazon Relay program.