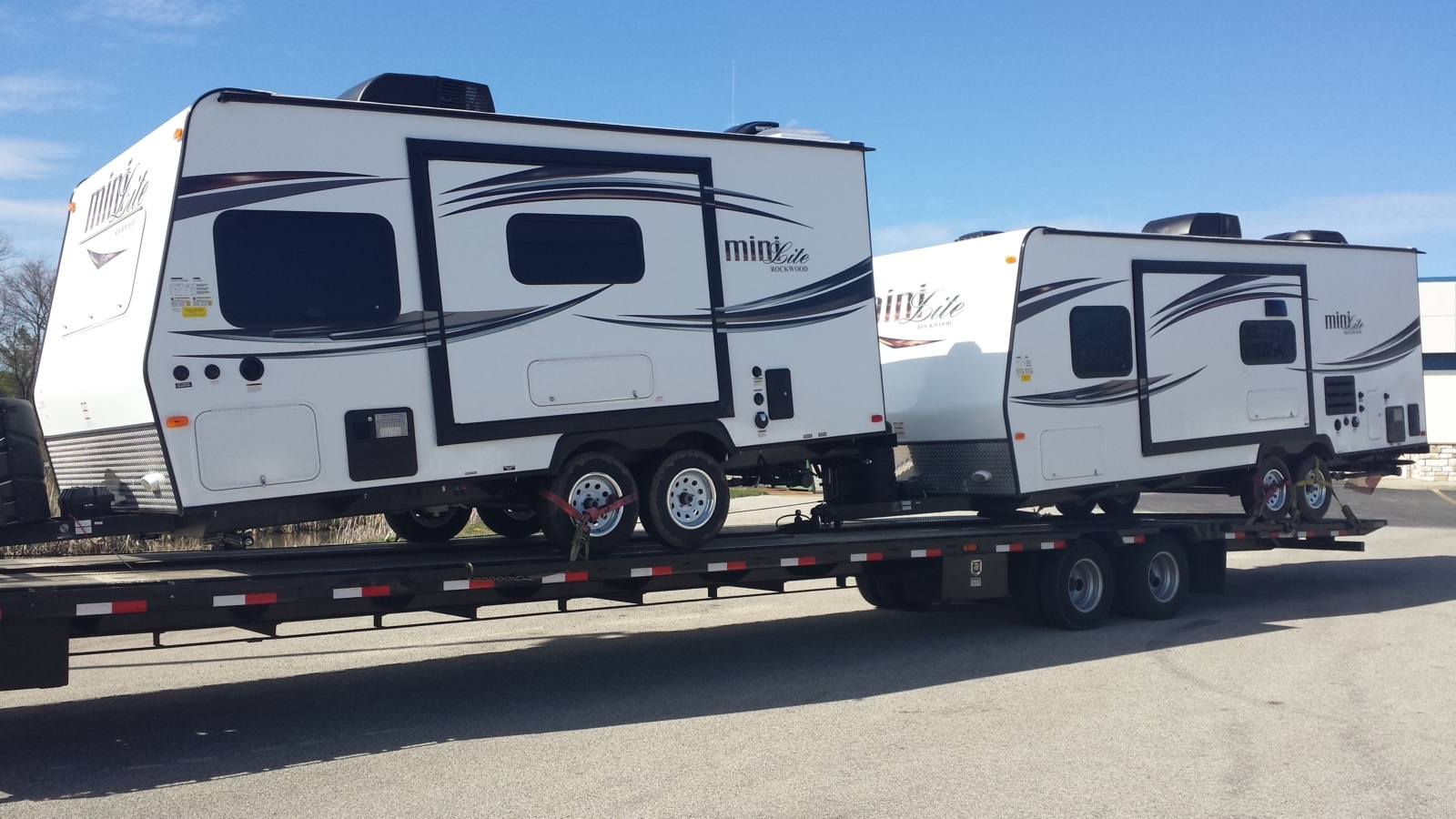 RV transport jobs are some of the most stable in the trucking industry, with over 504,000 wholesale shipments in the United States. The $50 billion industry leads to 45,000 direct employment opportunities.
RV transport companies focus on contracts between manufacturers and major retailers.
Across the United States, recreational vehicle transport companies operate day and night to bring RVs to the masses. Driving for these companies offers great pay, benefits and job security.
Leading RV Transportation Companies


Horizon was founded in the 1980s by Melvin Schrock. He was a driver delivering new RV's when he started Horizon Transport. The company is now responsible for delivering 80,000 vehicles annually and is a leader in the RV transportation industry.
The company's headquarters is located in Wakarusa, IN for over 30 years.
Careers
When applying for a career with the company, you'll have to register on their site before being allowed to see the open opportunities. There are two main career options:
Tow-away is the most popular option, allowing CDL drivers to use their own pickup truck to haul RVs to their final destination. You'll be paid by mile, reloads are available and there are security bonuses. Reloads and fleet-insurance rates are available.
Drive-away allows contractors to drive the RV to its destination. Drivers are paid between $0.75 and $1.20 per mile with a variety of loads available. Load boards are available via a mobile app, and all drivers must have a CDL B or higher.
Drivers are free to work as much or as little as they want. The driver has the freedom to deliver RVs when they want and take time off when they want while making a good living.
Areas Served
Horizon operates in the 48 contiguous states and in Canada.
Bennett was started in 1974 and offers 45+ years of impeccable service throughout the United States. It took three short years for J.D. and Marcia Garrison, the owners of the company, to generate over $1 million in revenue.
The company maintains their headquarters in McDonough, Georgia.
Bennett currently operates with a network of 3,000 owner/operators working across the United States to transport RVs.
Careers
Bennett offers the option to use your pickup truck to haul RVs. Contractors with prior RV transport experience can apply to work with Bennett. The company requires a Class A CDL, or a CDL B or CDL C with a minimum of six months in the last seven years.
Contractors work for themselves, with no forced dispatch and the ability to make your own hours.
Pay is deposited the same day, so there's no waiting or bi-weekly for your pay.
Contractors are provided with key benefits, including:
Fuel discounts
Tire discounts
Maintenance discounts
Drivers can enter into the company's voluntary health program, and there are also incentive rewards available.
The company also has positions in:
Flatbed / heavy haul
Drive-away
Toter
Areas Served
Positions are available across the United States.
Nationwide Auto Transport
Nationwide Auto has numerous transport divisions, including car shipping, RV and trailer shipping, flatbed trucking and expedited transport. The company's headquarters remain in Los Angeles, California.
The company has over 15 years of experience in both trailer and RV hauling.
Careers
Multiple positions are available within the RV transportation company, but when hauling RVs, there are two main opportunities:
RV home hauling which places a class A motor home on a trailer. A class B or C license will be required.
RV motor home drive away is a low-cost opportunity that allows drivers to get behind the wheel of an RV home and drive away.
Areas Served
Nationwide serves all contiguous 48 states, Alaska and Hawaii.
uShip Transport
UShip was started in a garage in 2001 by Matt Chasen and his fiancé. The two were moving from Seattle to Austin when they had to rent a 20-foot truck. Matt envisioned a company that would keep empty trucks full and in 2004, the uShip.com was founded.
The business remains based in Austin, Texas.
Every 30 seconds shipments run through the platform and over 41,000 active service providers use the service.
Careers
The company operates as a marketplace, allowing for carriers and brokers to decide which hauls they want to take. Drivers will have the opportunity to sign up for the platform, and pick and choose which jobs they prefer.
The benefit of this is that you have full control over your schedule and operate as your own business.
When signing up to the platform, you'll find that there are new shipments provided every 30 seconds. Drivers are able to pick up extra shipments on the world's largest transportation marketplace.
Truckers will place bids using the mobile-friendly app, set their schedules and decide which jobs they want to submit quotes to. Drivers are also able to manage their current job openings, and share their location for potential businesses to choose to work with the driver.
Job shipment alerts are available to know when preferred jobs are listed on the platform.
Areas Served
Listings are located across the United States and in many countries around the world.
Heavyhaulers.com
Heavy Haulers started as a small shipping company in 2006 with its headquarters in Burlington, Kentucky. They would soon expand as their customer base grew and started offering heavy machinery, industrial construction, farming and agriculture equipment and other delivery options throughout all 50 states.
The company has locations in Los Angeles, California and in Fort Lauderdale, Florida.
Heavy Haulers now operates across the United States offering RV transportation as well as several other services.
Careers
Areas Served
Heavy Haulers specializes in offering reliable freight transportation throughout the United States, Canada and Mexico.
Synergy RV Transport
Synergy RV this is one of the most reliable transporters of towable and motorized freight. The company continues to expand their operations across the United States, with three key services: tow away, drive away and backhaul.
The company's main headquarters is still in Goshen, Indiana.
Careers
Drivers who want to work with this company must go through two days of orientation in Indiana. If the driver has experience, there is a fast track orientation that will allow for a half day orientation process in Goshen.
The company will work to have you dispatched after orientation and start making money right away.
Drivers who want to be a part of the following divisions will have to have their own truck available, or have access to a truck that someone has granted power of attorney to use:
Tow-away
Haul and tow
Lowboy
All drivers will act as their own bosses. There is no forced dispatch, and drivers will have to rely on the online load board to view and claim loads.
Drivers will need to have at least six months of experience working in the industry, driving commercially or with personal experience. Drivers will receive 50% of the total haul upfront and the remainder when all of the paperwork is submitted. Payments are made Monday through Friday.
Areas Served
Service areas include the entire lower 48 States and Canada.