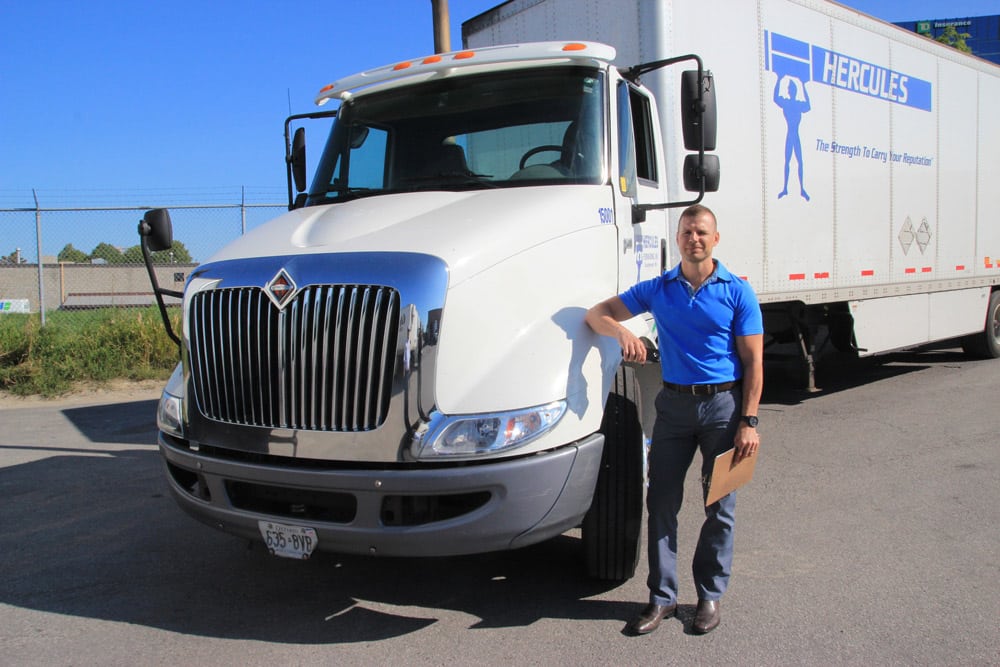 Hercules Forwarding Inc., also known as Hercules Freight, maintains headquarters in Vernon, CA and New Westminster, British Columbia. An award-winning company, Hercules specializes in providing LTL shipments between Canada and the United States.
Safe and reliable, Hercules Transport operates out of 26 locations across the United States and Canada.
The award-winning company won the Shippers Choice award 13 years in a row. Known for their reliability and quality transport, the company has grown from a small operation to employing 500 people in the operations and supply chain.
Hercules Forwarding Services
When sending freight through Hercules, you'll be able to schedule everything online. You can plug in all of your details, including your pickup and shipment information. Hercules will provide real-time tracking for shipments so that you know where your shipment is at all times.
Hercules provides a "no break-bulk system" that's designed to eliminate the risk of misrouting and reducing damage.
We deliver shipments 1 to 4 days faster than our competitors.
Rate quotes are available online and allow you to quickly determine your shipping rate. Multiple freight terms are available, and the currency options are USD and CND. LTL discounts are also available. Special volume shipments are also available.
Service Areas
Hercules has a massive service area, which includes: United States, Canada and Mexico. The company maintains numerous terminals that allow for truckers to enjoy top-of-the-line facilities and the ability to transport hazardous materials.
Terminals are located in Canada and the United States.
Canada
Calgary
Edmonton
Kelowna
Montreal
Toronto
Vancouver
Victoria
Winnipeg
United States
Atlanta
Austin
Chicago
Dallas
Denver
Harlingen
Houston
Kernersville
Laredo
Los Angeles
New Jersey
Oakland
Phoenix
Portland
Reno
Sacramento
Salt Lake City
San Antonio
Seattle
Visalia
The company's Los Angeles terminal connects its operations in Texas and to the east coast. Expansion has allowed for quick shipments and a robust operation with a wide service area.
Claim ratios are limited to .0026, with the ability to track all shipments in real-time and through driver handheld computers that always provide accurate location data.
Hercules Freight Jobs
Drivers are always in high demand, with the company requesting that drivers provide their information online. When applying, you'll have to provide all of the basic information about yourself, including a name, address, cell phone number, city, state and other pertinent information.
You can apply for the following positions:
Local
Linehaul
If you're authorized to enter Canada, you'll be an asset to the team and will have a greater chance of landing a job.
You'll also have to provide information on the following:
Driving experience
Accidents
Total violations
Number of DUIs
License and/or endorsement
Providing Hercules Freight with your information about your driving history and violations is required. Once you submit your information to Hercules Transport, you'll be called back if you're a good fit for the company.
Hercules Freight Salary
Salary information for Hercules Transport is available with data points from Indeed. The trucking company has an average pay of $21.65 for drivers, or roughly 12% above the national average.
Driver salary distribution ranges are $9.90 to $31.55.
Hercules Freight Reviews
When you look up information on Hercules Transport, you'll find reviews on the workplace. The company has decent reviews, with drivers stating:
Multiple career opportunities when working for the company
Good company to start your career and get experience
Weekends and holidays are off
Work weeks can be as long as 60 hours, so expect to work long hours
Medical benefits and 401k benefits are offered although there's no mention of company matches
Linehaul drivers state that their coworkers were all friendly and like a big family when operating out of Vancouver specifically
Newer equipment is available and mechanical issues get corrected rapidly
Mechanics are on-site on some terminals and repair vehicles quickly
One thing you'll want to note is that a lot of drivers state that to take their career to the next level, you'll need to switch companies. Pay seems to be decent since drivers will have weekends and holidays off.
You'll be able to drive for the company, deal with fair managers and coworkers and also have the ability to hone your driving skills. A lot of drivers love the atmosphere which makes them reluctant to leave the company, but limited room for advancement ultimately leads to many drivers seeking new positions.
The freight you'll be hauling varies greatly varies greatly from one load to the next, including:
Fabric
Television
Hazmat materials
You'll have a position that allows you to learn how to haul a variety of freight and gain the experience needed to work for a higher paying company.
The equipment and vehicles are on the higher-end offering you experience riding in trucks with the latest technology. You'll also be driving in a vehicle that is reliable – a major perk for news drivers.
You'll find that some locations are offering $500 sign up bonus.