Travel America (TA) Truck Service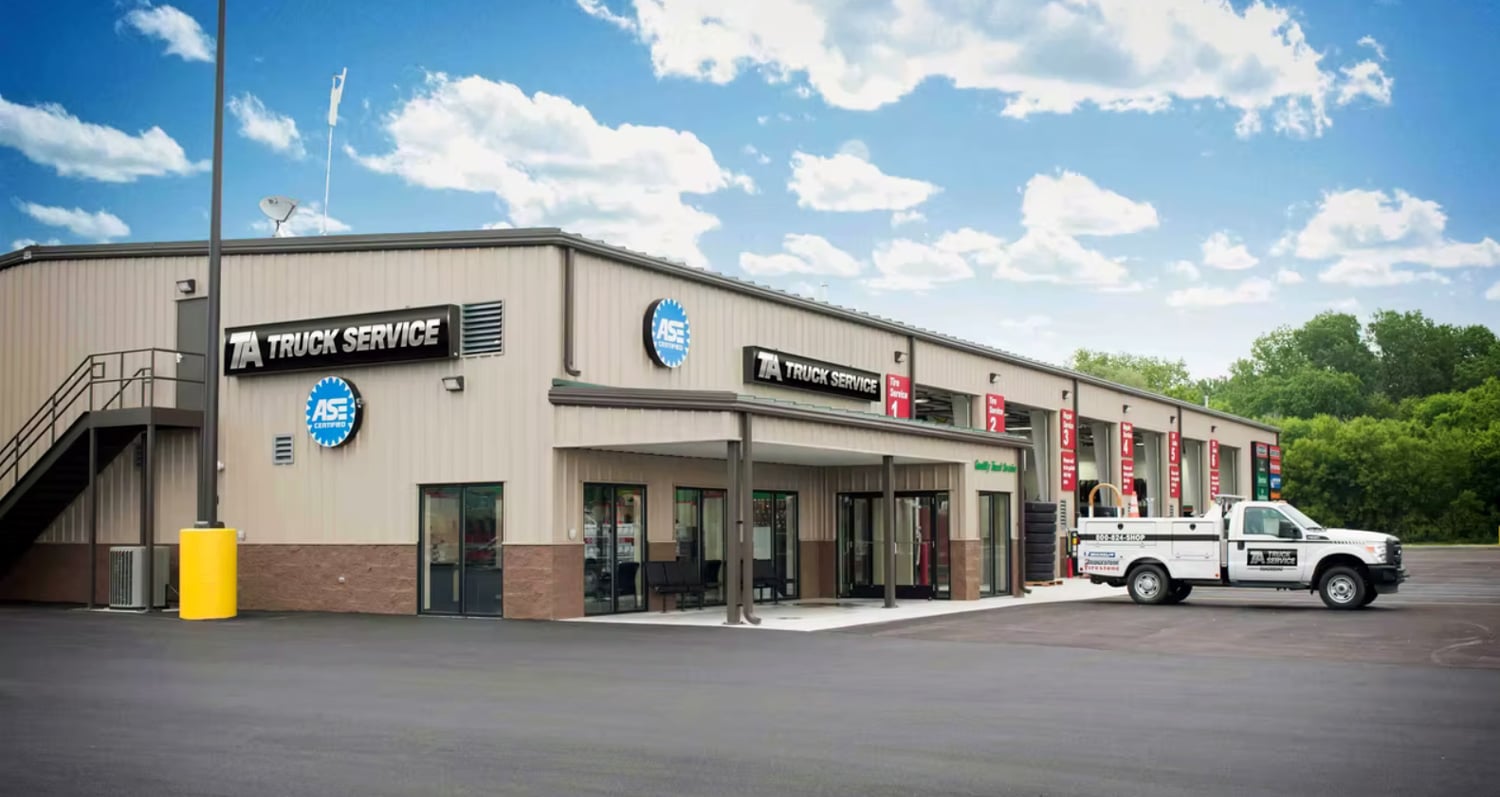 TA Truck Repair is a leader in truck repair. Whether you need to swap out your worn tires for new Goodyear tires, need routine maintenance or break down on the highway, TA is ready to help you get back on the road.
Combined, at all of the company's national truck repair shops, they have 3,000 ASE and TIA-certified technicians ready to work on your vehicles.
In total, TA truck repair operates:
245 locations
1,000+ service bays
Around-the-clock service and a nationwide limited warranty make TA Truck Repair a reliable solution for trucking fleets and owner-operators.
Services Offered Through TA Truck Repair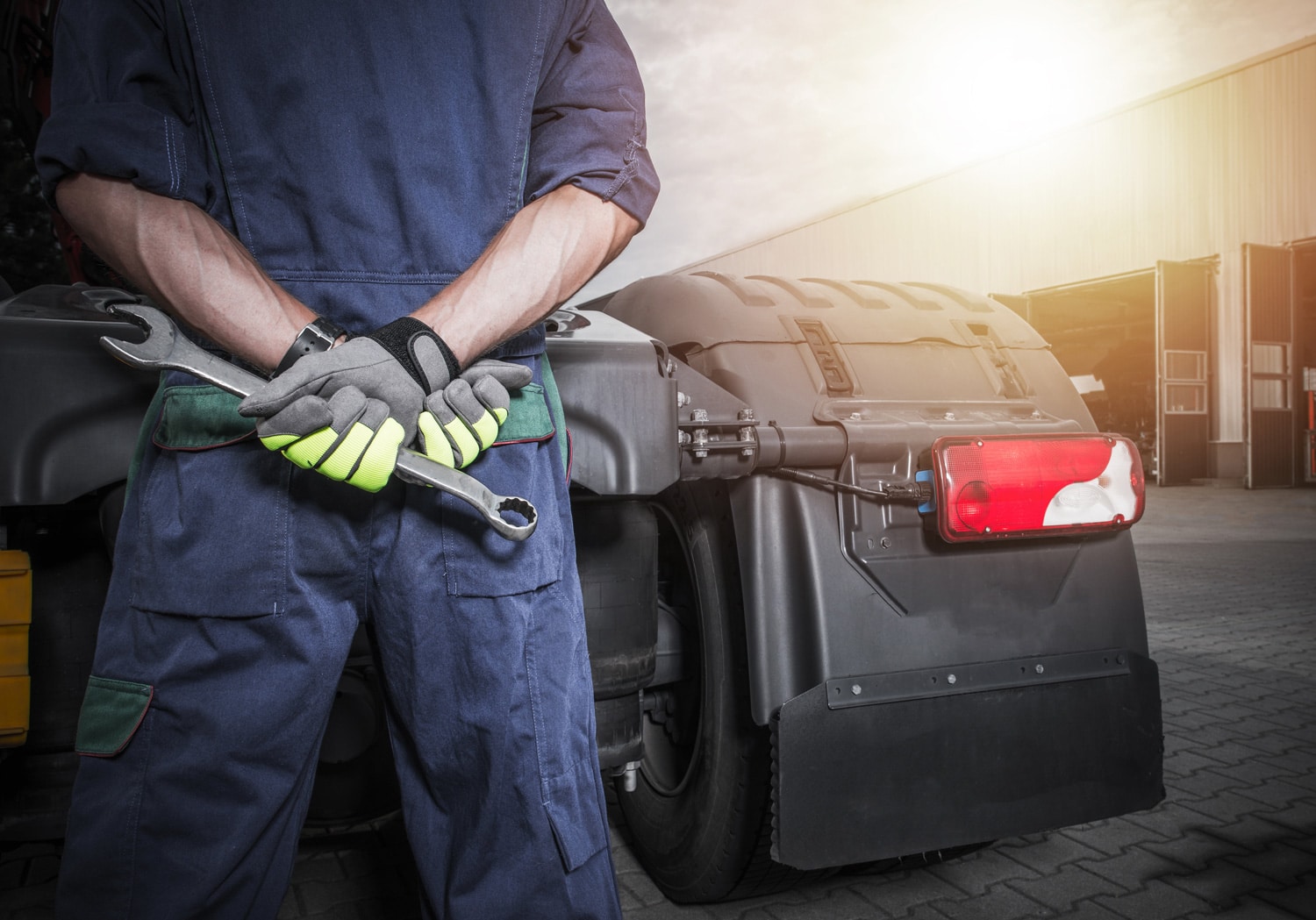 Preventative Maintenance
TA Truck Service offers maintenance solutions that go beyond a basic oil and filter change. When trucks are in a service bay, technicians will work through the preventative maintenance checklist to inspect components for wear and tear.
The multi-point inspection helps identify and replace parts and components that are nearing failure.
After identifying concerning components, immediate repairs can be made if requested. Every service includes an electronic checklist outlining all services rendered. From freightliner repair to oil changes featuring heavy-duty diesel engine oil, preventative maintenance:
Keeps vehicles running smoothly
Lowers the risk of breakdowns
On top of preventative maintenance, TA Truck repair also offers tire services.
Tires
TA Commercial Tire Network Retread Center will keep your vehicle on the road with long-lasting tires. As a proud member of the Goodyear Authorized Network Retread Network, TA provides truckers with:
Complete tire management
Proven ways to extend the lifespan of tires
The company's 32,000 square-foot retread facility in Bowling Green, Ohio can help increase performance with splice-less retreads using UniCircle Technology.
Customers can also choose new tires or from a selection of Goodyear retread tires, including:
Goodyear G572 Retread
Goodyear G372 Retread
Goodyear G316 Retread
Goodyear G159 Retread
TA also offers a line of Bandag retread tires that help you stay on the road for longer.
Retread tires offer:
Improved fuel efficiency
Reduction in energy loss
Enhanced traction control
Even wear solutions
All-season traction
Enhanced handling
If you want to have your tires inspected or repair them, the retread center also offers these services. When you need to be on the road, the right tires for the job can help. TA Truck Repair offers state-of-the-art tire solutions that extend your tires' lifespan and improve their efficiency.
Snow Chains for Professional Truck Drivers
Winter routes demand snow compliance, and between September 1 and May 31 of every year, nearly every state has chain regulations for tires. Failure to comply with snow chain requirements can lead to fines of up to $500.
TA Truck Service offers snow chain service and chain solutions to help your truck remain compliant with state regulations and maximize your traction. On top of snow chain tires, multiple other repairs and accessories are offered, including:
Cross-link replacement
Chain pliers
Slip-on installation products
Service centers can be found across the country, with a major focus on the Midwest and the western US.
Wheel Alignments
Proper wheel alignment improves a rig's performance and safety. Tires also benefit from an alignment with more even wear and tear. In addition, truckers face obstacles and road conditions that can impact their alignment on a daily basis.
Bumps and potholes are two common causes of premature tire misalignment.
If your truck is pulling to the side or you feel the steering wheel vibrate, these are two signs that you need a wheel alignment. TA Truck Service's network offers wheel alignment services at 205 of their locations nationwide.
Multiple services are offered, including:
2-Axle Alignment (AA2X)
3-Axle Alignment (AA3X)
Alignment Check, No Adjustment (AACK)
Center Steering Wheel (AASW)
Steer Axle Alignment, Toe Only (AATO)
Trailer Alignment (AATR)
Alignments should be part of your routine service to ensure that your rig stays on the road.
Battery Replacement
TA Truck Repair offers battery services, with state-of-the-art batteries from Odyssey and NorthStar. As part of the service offered at nationwide service centers, you can have performance batteries placed in your truck that offer:
4-year, full replacement warranty
Faster recharge than standard batteries
OEM fit
Each brand of battery offers its own benefits:
NorthStar Ultra High Performance
The NorthStar brand is made in the United States and meets the high demand of heavy-duty diesel trucks. These batteries provide:
Quick starting capabilities
900 cycles with 50% discharge
OEM fit
AGM construction
Due to the AGM construction of NorthStar batteries, there are no battery terminals to clean nor water levels to check, which offers a major bonus for truckers that want to alleviate their long list of maintenance items.
ODYSSEY Performance Batteries
ODYSSEY batteries are designed to keep your cab running when your engine isn't. These batteries have a 70% longer life cycle than your traditional batteries and:
Recharge to 100% in 4 – 6 hours
Offer mounting flexibility
Provide resistance to vibration and shock
With extreme temperature tolerance, these batteries can be used in any weather condition and will provide the cranking power you need to get on the road even in harsh winter weather.
TA Roadside Assistance
A breakdown keeps you off the road, makes deliveries late and harms your profits in the process. RoadSquad, a TA Truck Service, is here to help with 24-hour roadside assistance for all commercial trucks.
Uptime is important, and through a network of providers, the service can help you repair your vehicle and get back on the road 365 days a year.
Multiple services are available through the RoadSquad service, including but not limited to:
Electrical repair
Brake services
Diagnostics
Full mechanical services
Jump starts
Belt and hose replacement
Trailer repair
Tire services
Fuel deliveries
If your vehicle cannot be serviced on-site or needs more extensive repairs, towing services are available to bring your truck to one of the partners' repair facilities. Becoming part of RoadSquad is free with no surprise fees.
You can become part of the network without any fees or contracts.
Multiple payment options are available for all services rendered, including:
Credit cards
EFS
Fleet One
TCH
QuikQ Cards
Et.
All repairs come backed by a Nationwide Limited Warranty that covers all repairs that are rendered at either one of the third-party providers or TA Truck Service facilities.
Repairs
Whether you're an owner-operator or a trucking fleet, TA Truck Repair has maintenance and repair solutions to meet your needs. A wide variety of parts and services are available at each of the company's repair facilities.
Also, the company guarantees that there are always 200 parts in stock at their facilities.
You can get back on the road quickly with the company's:
Advanced diagnostic solutions to pinpoint issues with your truck
Tire and battery replacement
Trailer maintenance solutions
Manufacturer warranties are provided for all parts so that you can be confident that if there's a defect, you can have the part replaced for free. The repair shop is also a service port for both Freightliner and Western Star vehicles.
If your trailer is in rough shape and needs maintenance, the technicians at Travel America can help make repairs to extend the lifespan of your trailer.
Travel America has service solutions nationwide that aim to keep you on the road. Additionally, on top of their repair solutions, they also offer fueling options that aim to keep the vehicle running efficiently.
Fast and efficient, the company's TA and Petro fueling stations use innovative fuel dispensing technology to fill up your tank faster.
Alternative fuel, gasoline and diesel are sold at all fueling stations.
Plus, you'll be able to save money thanks to generous fuel discounts.
Travel America truck repair services offer you the confidence you need to keep your truck running efficiently and keep your loads arriving on time. With over 240 locations across the nation and a nationwide network of emergency roadside assistance partners, TA truck repair is a reliable partner for truckers across the country.