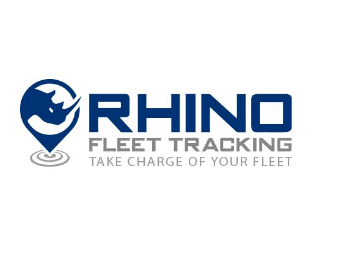 GPS tracking is the process of taking triangulation or location data, and sending that information back to the end user. Data may be sent through satellite or cellular communication. In some cases, RFID, Wi-Fi or radio transmissions may be used.
GPS locations are displayed via a map, like Google Maps.
With Rhino Fleet Tracking, it's easy to monitor and keep track of your fleet.
How Does Rhino GPS Tracking Work?
Fleet and Asset Tracking Features
Monitor your vehicles and equipment with ease. Fleet tracking provides reports of:
Fleet managers can use this information to resolve inefficiencies, revise routes and provide accurate reports of the most important metrics.
All of your fleet's data can be viewed from one central location: your tracking dashboard. This information is displayed in real-time and on Google Maps. You can view this important information from your smartphone, tablet or laptop anytime, anywhere.
Rhino's system also allows you to set landmarks along routes, so you can pinpoint driver locations and be alerted whenever drivers stray away from their routes.
With this tracking system, you also have the ability to create GeoFence Alerts. Geofences can be created to verify that vehicles have entered or left defined areas, or to be notified when vehicles are being used without permission.
If vehicles are being used after-hours, you will be notified immediately via text message or email.
Speeding and Stop Times
With Rhino, you can monitor driver behavior.
The speeding alert feature will send notifications whenever a driver exceeds the allowed speeds. Speeding not only increases the risk of an accident, but also uses more fuel and can put a stain on your company's reputation.
Rhino's system also sends reports on driver stop times. Drivers that spend an excessive amount of time at a stop are less productive and waste more fuel.
Trailer and Equipment Tracking Devices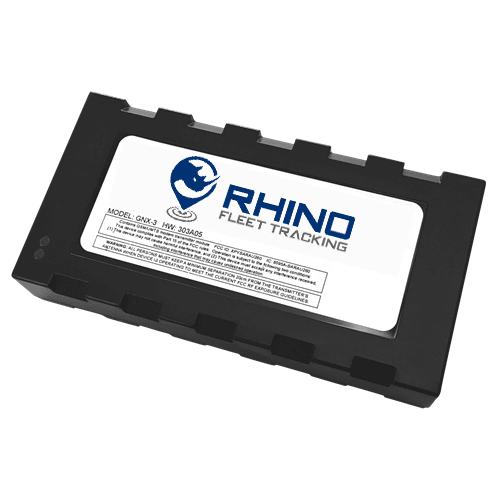 For trailer and equipment tracking, Rhino offers two solutions:
4G LTE Powered Asset Tracker
4G LTE
2-year battery life
Can be hard-wired, or flexible mounting options are available
3G Battery Powered Trailer Tracker
Powered by 4 AA batteries
2-3 years of battery life
Waterproof and dustproof
Easily mountable
Multiple configurations
Rhino's GPS tracking uses a cloud-based system, with different power options available: battery-only, hybrid and wired.
Geofence and movement alerts can be programmed. Trackers may also offer:
Smartphone apps
API integration with your system
24/7 support
Historical view
What are the Benefits of The Rhino GPS Fleet Tracking System?
Rhino Fleet Tracking reviews are mostly positive, and it's easy to see why.
The company's truck fleet tracking offers a number of benefits, including:
Seasonal Plans and No Contracts
Rhino doesn't force fleet managers into lengthy contracts. The company offers month-to-month service options for maximum flexibility.
Seasonal plans are also available, so there's no need to waste money during the off-season.
Excellent Customer Support
Rhino offers first-rate customer support that's available 24/7. If you need more information or help with your system, help is just a phone call away.
A GPS tracking system can only benefit your fleet if you know how to use the software, and that's where Rhino stands out in the crowd. They are the only company in the industry that offers one-on-one training for their software.
The company also provides free installation help, with step-by-step documentation and video installation instructions. If you can't install the device on your own, Rhino can help you find an installer in your area.
The company also keeps in close contact with their customers to ensure that their needs are met and problems are solved.
Reduce Fuel Costs
A GPS tracking system can help lower fuel costs – one of the biggest expenses for fleet businesses. Rhino's fleet tracking solutions can help reduce fuel costs in a number of ways, including:
More efficient routing and dispatching: One Rhino customer saved $1,300 per year per vehicle using their tracking system to improve routing. Choosing the most efficient route reduces fuel costs and waste.
Reduced vehicle speeds: Speeding can reduce gas mileage by 33% on highways and 5% around town, according to the U.S. Department of Energy. GPS tracking allows you to monitor driver speeds and discipline drivers as necessary.
Reduced idle times: An hour of idling costs a gallon of fuel, according to research from the State of Indiana. Rhino will alert you of excessive idle times, so you can take steps to correct the problem.
Reduced vehicle misuse: Misuse of fleet vehicles can increase fuel consumption by at least 20%. Rhino sends alert when vehicles are used during off-hours to ensure that resources are not being wasted.
Proper vehicle maintenance: Vehicles that are properly maintained are up to 35% more fuel efficient than those that are not. Rhino provides automatic alerts for maintenance, so these important tasks don't fall onto the backburner.
Lower the Risk of Theft and Waste
With GPS tracking, you can lower or eliminate theft and waste by monitoring for:
Unauthorized stops
Route deviations
Spikes in fuel usage
Vehicle speeds
Excessive idling
All of these activities may be signs that drivers are wasting fuel or misusing company vehicles. Rhino's system can help correct the problem and allow you to take immediate action. Using this data, you can also correct route inefficiencies that may be causing drivers to waste fuel and putting additional wear and tear on vehicles.
Theft is also a cause for concern in this industry. If theft does occur, the GPS tracking system can help you quickly locate and recover your assets.
Reduced Labor Costs
With Rhino's GPS tracking and reporting, you can keep track of driver behavior and routes to eliminate inefficiencies that drive up labor costs.
Vehicle telematics can help:
Track actual hours worked
Stop prolonged driver breaks
Uncover timesheet fraud
Regulate overtime costs
Reduce paperwork
Improved Safety
GPS tracking can help improve driver safety and, ultimately, your reputation. Rhino's tracking solution sends alerts for:
Speeding
Fast stops
Fast starts
Drivers who are engaging in unsafe behaviors can be counseled and/or trained to improve your fleet safety. Tracking data also allows you to discuss these issues with drivers in private and find a solution that addresses the problem.
Tracking systems may also allow you to take advantage of insurance premium discounts while reducing the risk of theft and vehicle misuse.
Lower Maintenance Costs
Maintenance can easily be overlooked, especially when managing a large fleet. But when simple tasks, like oil changes, are neglected, it can lead to costly repairs in the long-run.
Rhino's system sends proactive alerts when problems are detected and need attention. The diagnostics feature also allows you to run checks on a vehicle's engine and provide information on the engine's condition.
You'll also receive alerts when basic maintenance tasks are due, such as oil changes.
Easy-to-Use Platform
Rhino's dashboard can be customized to your liking. The company offers an online application and mobile app for your convenience.
With Rhino, you can request a demo and also get training to understand how to use their system.
Plus, they use Google Maps to display tracking. Most people are already familiar with Maps and use it on a regular basis.
How Much Does Rhino Fleet Tracking Service Cost?
Rhino is transparent about the cost of their devices and service.
Here's a complete breakdown of their pricing:
Fleet tracking device: $39.95
Monthly cost: $16.95 per device (for 3 or more devices)
Activation fee: $20
What does the monthly fee give you?
Real-time location information
Customizable dashboard
15 standard reports: after-hours locations, asset, battery status, hours of operation, exceptions, locations, idle minutes, landmark stops, miles by state, speed, services, posted speed limit, switches and stops.
Breadcrumb trails to see where your vehicles have traveled
Nearest vehicle information
Vehicle maintenance tracking
Street and satellite views
Rhino can ship out trackers in a day or two. Devices are custom configured to your needs and tested to make sure they're working properly before being shipped out.
---