Diesel Mechanic Schools & Training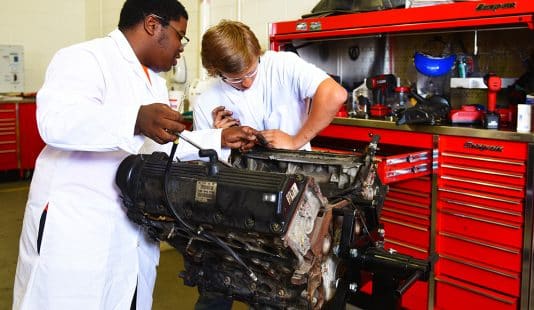 Diesel mechanics are in high demand, with growth expected to be 9% between 2016 and 2016. Over 25,800 jobs will be added to the field during this time, so it's a great option for anyone that doesn't mind getting their hands dirty.
The average salary is $47,000 a year, but the salary range can be higher depending on where you work.
If you're looking for a Diesel mechanic school or just want to know how to get your foot in the door as a diesel mechanic, grab a cup of coffee and keep on reading.
How Much Does Diesel Mechanic School Cost?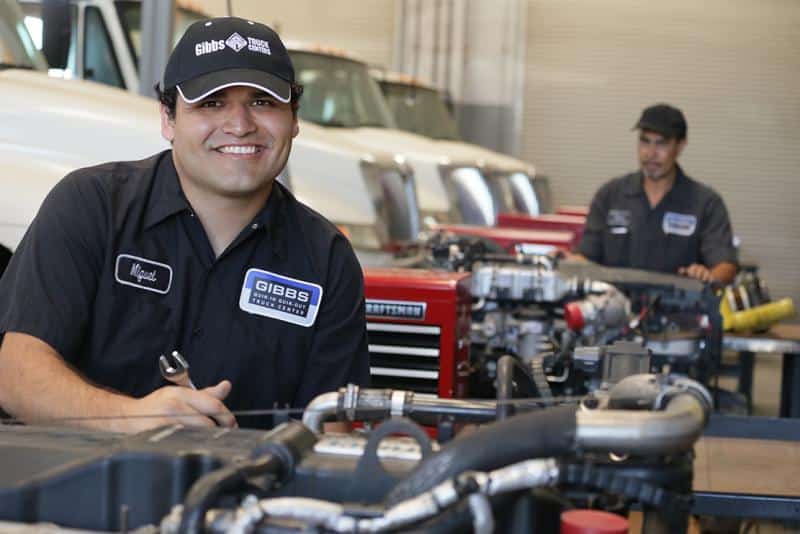 Life as a diesel mechanic is filled with greasy hands, troubleshooting and keeping trucks on the road. If you want to go to a Diesel mechanic school, you'll be happy to know that you won't be bogged down for the rest of your life in debt.
The average tuition cost is under $4,000, but the average loan amount sits at around $5,500.
Scholarships are available, and they'll come out to about $1,800 on average. When you compare these costs to going to college, it makes a lot of sense to become a mechanic. The industry is thriving, and there is ample opportunity to work for companies in your area.
Of course, tuition varies, so you'll want to submit your information to a local school near you to know the exact amount you can expect to pay in tuition costs.
Financial Aid is Available
Community and technical colleges often offer Diesel technology training. The good thing about a community college or tech school is that:
Tuition rates are lower
Federal financial aid is available
You'll also want to sit down with an adviser that will go through all of the possible grants and assistance that you may be able to receive. Scholarships are available annually, so be on the lookout for scholarships and apply for every scholarship you can.
A lot of students will have some of their tuition costs covered through scholarships, financial aid and grants.
And a few lucky individuals may have to pay little-to-no tuition costs.
How to Become a Diesel Mechanic
There was a time when requirements for becoming a diesel mechanic really didn't exist. A person would come into a shop, show that they could work on diesel vehicles and land a job. These individuals learned a lot through hands-on experience, and many of them are leading mechanics today.
But times have changed.
You may be able to land a job without schooling, but most employers are looking for someone that has been through professional diesel technology training. As a trained mechanic, you'll also be able to fit in with the company faster and need less "hand holding" along the way.
Schooling will consist of:
Theoretical teaching in the classroom
On-the-job training
Apprenticeships are where you'll really get your feet wet and start learning under the supervision of an experienced mechanic.
Schools have worked to make "lab work" part of the training. UTI's Diesel Program is one that allows you to learn both in the classroom and in the "lab." The lab is where you can put all of your education to use with hands-on application.
Classroom learning is always reinforced with some form of hands-on training.
What Classes Do You Take to Become a Diesel Mechanic?
Classes vary from school to school. You'll learn the basics of what is means to be a diesel mechanic, and this means:
How key parts work
Engine testing, replacement and removal
OEM software for electronic diagnostics
Fuel and emissions systems
But that's just one course on engines. You'll also take a variety of courses on:
Transmissions
Brake systems
Chassis
Steering and suspension
Climate control systems
Hydraulic systems
Electronic systems
Maintenance
When you are done with your schooling, you'll know the ins and outs of a diesel truck. You'll understand how all major systems work, and you'll also have a very thorough understanding of how to troubleshoot, repair or replace systems.
Maintenance will be a key part of the process because a diesel mechanic will need to know how to perform an inspection that meets the Department of Transportation's guidelines. You'll also have to know how to reduce failures and follow the manufacturer's maintenance procedures.
The goal is to keep trucks on the road for as long as possible while ensuring that the truck is safe.
Every school has their own list of exact courses, so it's impossible to list what you'll learn at your local school. You can expect a classroom and hands-on experience, and you should learn all about the inner workings of a diesel vehicle.
There are degree program's too for diesel mechanics.
But a lot of schools will skip over the associates and bachelor degree programs because mechanics want to enter the field as quickly as possible. There are programs that take less than a year to complete.
Associate or Bachelor degree programs can take two to four years to complete.
Apprenticeships and Schooling
If you want to work underneath a "master" mechanic and really learn the ins and outs of the industry, you can. There are apprenticeship programs that are often offered by the government or a union.
These programs will also have theoretical training and hands-on training.
Apprenticeships are the step you need to take to become a "journeyman" in the field. As a journeyman, you'll be an entry-level employee that is allowed to work on vehicles with minimal supervision.
This form of advanced training is required because diesel maintenance is very serious. Improper maintenance on a big rig can lead to death or severe injury.
Going to school can often give an apprenticeship applicant a better chance of landing an apprenticeship.
Specializations are Available
Career specializations are common in the industry. You'll receive a certification from specialization programs, and the certifications can help you get job placement even faster. ASE certification is the most desired in the industry, and it is a certification that has 16 specialization areas.
Each specialization will have its own requirement, and a few examples of the specializations offered are:
Collision Repair and Refinish
Truck Equipment Certification
There are no laws stating that you need to be certified to be a diesel mechanic. A lot of seasoned mechanics are not certified, but newer mechanics will have a much easier time finding a job with a certification.
All professionals should consider advanced training or certification.
You'll also be able to demand a higher salary if you have advanced training. ASE exams will require you to have one to three years of experience, so this is something you'll have to pursue after completing diesel mechanic school.
What Life is Like as a Diesel Mechanic
Once you've finished your schooling and have landed a job, the gun begins. Life as a diesel mechanic is anything but mundane. You may have basic oil changes and maintenance one day, and the next day, you'll be working on troubleshooting an issue that kept you up all night scratching your head.
A lot can go wrong on the road, and it's your job to be able to troubleshoot key issues impacting a vehicle.
You can expect a high paced environment, with trucks coming in and out all day long. A mechanic will need to be able to:
Repair and rebuild key components, including engines and transmissions
Test drive and diagnose vehicles
Perform key inspections of all vital systems
Perform oil changes and other routine maintenance tasks
Perform alignments and adjust wheels
Use diagnostic tools and learn to inspect vehicles properly
Diesel engines take a beating. Trucks are hauling heavy loads on a daily basis, and it's not uncommon for a rebuild to be needed every 100,000 miles. Engines may also need to be fitted with emission-control systems to adhere to ever-changing emission requirements.
The Bureau of Labor Statistics claims that diesel mechanics are needed night and day. Keeping trucks on the road is a top priority, so there are graveyard shifts that allow you to work overnight repairing vehicles.
Every garage or shop is different, so you'll need to choose hours that work best for you.
In most cases, a mechanic will stay in one garage the entire time. They'll become familiar with the equipment available and will have all of the specialized tools they need to make quick repairs.
But if you're looking for a change of scenery or like the idea of being a mobile mechanic, there are positions where the mechanic will travel to make onsite repairs. This is a fun job if you don't like staying in the same place all day.
The downside of a mobile mechanic is that you may not have access to all of the specialized tools that you would have at a garage. Diagnostics and repairs may be more difficult due to the lack of specialized tools.
While we talk primarily about being a mechanic for the trucking industry, diesel mechanics also work on other equipment and vehicles. The career options of a diesel mechanic may also include:
Aircraft support
Marine equipment and ships
Construction equipment
Farm equipment
Diesel mechanics have a lot of desirable skills. If you find you need a career change in the future, your skills are transferable to the fields above.
If life as a diesel mechanic sounds like the perfect fit for you, we recommend searching for local schools in your area. Classroom sizes are small, acceptance rates are high and a lot of schools will help you get the financing you need to complete your schooling.
It's a solid career choice for anyone that likes to work on trucks and has a passion for troubleshooting.  Diesel mechanics also earn more than their gasoline counterparts.