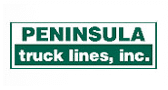 Peninsula Trucking, Inc. is a specialized foliage carrier established in 1982. We are continuously growing with the emphasis on maintaining our on time delivery to our valued customers, and the professionalism of our drivers. We are the largest LTL foliage carrier in Florida. We serve the East Coast to the West Coast and all points in between, departing from our Central Florida terminal seven days a week.
Their equipment is satellite tracked and we use Nextel two way communication with our drivers to track your shipments. We operate in excess of 85 tractors and 100 trailers consisting of 48 and 53 foot Reefers and Flat Beds.
All of Peninsula Trucking equipment is air ride equipped to ensure safe delivery of sensitive cargo.
Peninsula Trucking is a full service transportation company dedicated to providing you with on time and safe deliveries. Our business is to serve the needs of our customers, our wide range of services are tailored to each individual customer's needs.
Peninsula also has a brokerage department to help cover your freight with reliable outside carriers that will treat your loads and your receivers the same as our company drivers.
Peninsula Trucking Values
SERVICE – The people of our company are our strength. Through teamwork, pride, dedication, and accountability, we will continually strive to provide the level of service needed to support our customers and promote our company.
SAFETY – We will always be aware of our responsibility for the highest standards of safety and the protection of product, employees, customers, and the communities that we serve.
QUALITY – Using Innovation and continuous technological improvement, we will work as a team to serve our customers and each other by providing cost effective services of the highest quality.
Peninsula Truck Priorities

CUSTOMER FOCUS – Our most important challenge is to understand the needs of our customers, to satisfy those needs, to meet or exceed their expectations, and to look for new and creative ways to improve our services and ensure our customers' continuing loyalty and success.
INNOVATION – We intend to increase our ability to serve our customers through innovation, continuous improvement in techniques and equipment, and through continuing expansion of our services system. In doing so, we can offer the customer a complete range of basic, specialty, and customer requested services.
FINANCIAL STRENGTH – To maintain our leadership position, we must maximize the utilization of our resources, stay in step with new and changing technology advances, and continue our quest to be the most cost effective carrier. Many of the policies and procedures of our company are designed to ensure that these goals are achieved. If we keep all of the above in mind, we will enjoy not only benefits offered by a successful company, but also be able to take great personal satisfaction in knowing we are the BEST at what we do.
Company Mission Statement
Peninsula Logistics, Inc. is determined to be recognized as a premier carrier. Only our dedicated effort and unfailing commitment as summarized in our stated goals can ensure our continued success;
TO BE A PREMIER CARRIER KNOWN FOR SERVICE AND HONESTY.

TO PROVIDE THE BEST CUSTOMER SERVICE IN THE INDUSTRY, AND

TO GENERATE A RETURN ON OUR RESOURCES THAT WILL ENSURE CONTINUED SUCCESS AND GROWTH.
Every action of every employee and contractor will be a reflection of these commitments.
Peninsula Foilage, Inc.

To our shippers, it's the fact that their product travels in the finest equipment on the road driven by professionals dedicated to delivering customer satisfaction. All of Peninsula's tractors are late model and our trailers are all customized 48′ & 53′ x102″ climate controlled, air ride. Our equipment assures our clients of the timely, intact arrival of even the most delicate freight.
Cargo damage claims are kept to a minimum (LESS THAN 1/4 of 1%) due to our specialized loading techniques, excellent dock crew and our climate controlled, air-ride tractors and trailors.
Finally, to everyone we do business with, the Peninsula Advantage is the knowledge we started as a one truck company in 1982, growing slowly, maintaining our emphasis on personal service and remaining dedicated to improvement.
At Peninsula we're proud and excited to have an opportunity to be your carrier. Take ADVANTAGE of all we have to offer at Peninsula Foliage, Inc.