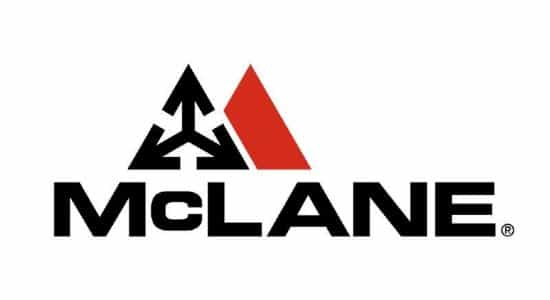 Looking for a reliable career in the trucking industry?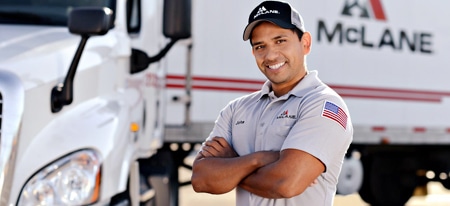 McLane is a $44 billion company, and a leader in supply chain services. Debt-free and established in 1894, the company works with mass merchants, convenience stores, chain restaurants and drug stores all throughout the United States. Needless to say, drivers enjoy steady work and a lasting career.
McLane Trucking History
McLane has been in the trucking business for more than a hundred years, and is one of America's biggest private fleets. The company owns 40 distribution centers throughout the country, and is a part of the Berkshire-Hathaway family.
McLane is one of the leading trucking companies in North Carolina. Some of the company's largest customers include: Target, Walmart, Family Dollar, Walgreens, KFC, 7-Eleven, Buffalo Wild Wings and Pizza Hut. With a customer list that includes some of the largest brands in retail and food service, the company offers its drivers stability and a lasting career.
Requirements for McLane FoodService Drivers
A career in the McLane's FoodService division is highly sought after by drivers. The company does include a few requirements that all drivers must meet before being considered for a position. These requirements include:
At least 21 years of age
Valid CDL
DOT qualified
What to Expect When Driving for McLane

McLane does note that a career with their company is not for everyone.
A career in the FoodService division requires physical stamina and strong communication skills. McLane also notes that drivers need to know how to handle adverse driving conditions and tight areas.
Drivers will be faced with a rigorous schedule in order to meet customer demands and needs. You'll be doing more than just driving a truck; you'll also be providing great customer service. And, you'll also be expected to unload the truck.
Most McLane truckloads contain over 30,000 pounds of restaurant food products, including various foods, beverages, paper products and fresh vegetables. Drivers will be expected to unload these items on their own. Some boxes are light, while others can weigh over 60 pounds.
A typical route may have as many as 20 stops. Most runs are regional, but there are some positions that are local and allow drivers to be home that very same day. Regional runs usually take two days to complete.
In any given week, most drivers will take two long or overnight loads and one short or local load.
Most runs occur either late at night or in the early morning hours, which means drivers will perform key drops. In this case, the customer provides the driver with a key, and the driver will drop off the load to an empty store in the middle of the night.
Advanced, Modern Equipment
Many of McLane's trucks are equipped with in-cab computers that electronically record loads and logs. Some computers also offer:
Auto-duty status changes that are based on the tractor movement
Text-to-speech functionality to read messages safely while on the road
Easy common menu access with single-touch functionality
The average age of the McLane fleet is three years, so all drivers will have the pleasure of driving a new, modern truck.
Home Time & Training
While company's drivers enjoy more at-home time with their families, the company delivers 362 days each year, so drivers shouldn't expect too many holidays off.
McLane does offer extensive training as well as numerous reward opportunities for drivers.
Despite the few drawbacks (physically demanding and potentially long hours), McLane offers a solid career opportunity drivers. They also boast a low employee turnover rate, with 30% of drivers having been with the company for over 7 years. Many drivers have been with the company for 20+ years.
McLane Employee Benefits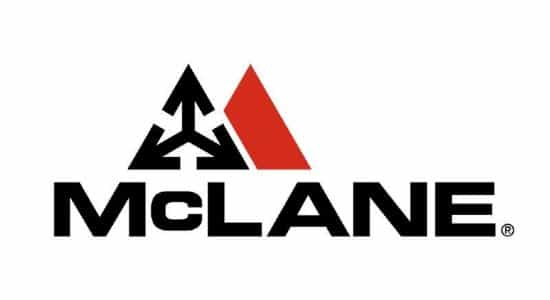 The McLane company cares about their drivers, and offers excellent benefits, including:
Holiday pay
Vacation and time off; 6 paid holidays and two personal holidays each year
401K after 90 days of service
Medical, vision and dental benefits
Educational assistance – up to $3,000 in reimbursement for books and tuition
McLane understands that while it's important to meet the demands of customers, it's also important to ensure that all drivers are well taken care of. Vacation time is available to all employees who have been with the company for least one year. After one year of service, drivers will receive two weeks of vacation. Employees that stay with the company earn three, four and up to five weeks of vacation after reaching certain milestones.
The company rewards employees for reaching these milestones by offering an additional week of vacation for that milestone year.
Average Salary for McLane Co Drivers
How much does the average McLane driver earn? That's the first question that most drivers ask, and the answer is pleasantly surprising.
On top of the excellent benefits offered by the company, McLane also provides top pay.
New drivers earn, on average, $59,000 per year
Tenure drivers earn, on average, $77,000 per year
On average, driver tenure is 18 years. Sign-on bonuses are also offered in some divisions. Considering the generous benefits and loyalty rewards that the company offers, it's easy to imagine any driver earning tenure status.
McLane offers some of the highest pay in the industry, but make no mistake about it – drivers earn every penny of it. If you're looking for a career that only requires you to drive a truck – and nothing more – this is not the career choice for you. You will be responsible for getting the load delivered on time, and you'll also be responsible for unloading everything yourself. Some boxes can weigh up to 60 pounds, but the company does provide dollies for each run.
Many people who work for McLane claim that after working for the company for just a few years, they were earning over $60,000 per year.
Other drivers who were with the company for 16+ years were earning over $100,000 per year. While this high of a level of pay is not guaranteed, there is opportunity to earn an excellent living working for McLane – as long as you don't mind the physical aspect of the job.