American Central Transport

American Central Transport (ACT) started out as a flatbed trucking company in 1926 as E.K. Motor Service.
Since then, the company has progressed from a simple flatbed carrier to a carrier that offers both dry vans and flatbed services. For drivers, Central Trucking offers great career opportunities for those working as owner-operators.
Owner Operator Careers at Central Transport Trucking
ACT knows that they can only be successful when their owner-operators are successful, so they give their independent drivers the tools they need to succeed. Not only do they offer high pay rates, but they have some of the highest retention rates in the business.
Like any other trucking company, ACT has certain qualifications that drivers must meet before they can be hired. These qualifications include:
At least 22 years of age.
Truck driving school graduates need to have at least 9 months of experience. Drivers who have not graduated from truck driving school need to have 18 months or more of experience.
No positive drug test screenings.
A stable and verifiable work history.
No DWI or DUI convictions within the last 7 years.
No felony convictions within the last 7 years.
Hold a valid Class A CDL.
An adequate driving record.
Must pass the DOT physical and drug tests, and meet all DOT requirements. ACT pays for these tests.
No preventable DOT accidents within the last 18 months.
All drivers must meet these requirements if they want to be hired as an owner operator.
Contractor Benefits
Unlike other trucking companies, ACT offers numerous benefits to contractors. While they do not offer medical or life insurance, they do offer other benefits in the form of fuel, maintenance and communication. These include:
Fuel Benefits
Tolls paid (authorized)
Fuel surcharge on loaded and empty miles
100% fuel network discounts
Communication Benefits
In-cab scanning available
The most advanced version of QualComm
Equipment Benefits
Trailer to truck ratio of 3:1
New air ride trailer models
Maintenance Benefits
Discount on parts
Discounted labor rates of $75 per hour
Free truck washings
Access to the company's national tire discount program
Owner Operator Pay Scale
Wondering about the pay? ACT offer some of the highest pay rates in the industry at $1.03 per mile. That's more than double what company drivers get paid. Depending on where you're located, the pay may be as high as $1.10 per mile.
If you work in a team, you'll be happy to learn that ACT offers between 5,000 and 6,000 miles per week.
Lease Purchase Opportunities
Want to be your own boss, but don't know where to start? ACT can put you on the right path to success with their lease purchase program. All leases are handled through ACT's sister company: Excel Leasing.
Benefits of the Lease Purchase Program
There are so many benefits to leasing with ACT, such as:
$0 down
All trucks are well-equipped
Well-maintained, late model Kentworth units
Fuel surcharge on loaded and empty miles
No credit check required
Low payments
Fuel network discounts
Other Central Transport Careers
While owner-operators will earn the highest salary working with ACT, company drivers are also paid well, and the job comes with numerous benefits.
Driver requirements are strict, but a position as a company driver is a stable one with plenty of miles and great pay.
All company drivers are paid weekly either by direct deposit or check. Weekly cash advances are also available for any road expenses you may have. All payroll is calculated from the driver paperwork that the Liberty, MO terminal receives.
Just like with owner-operators, ACT also has several requirements for company drivers. These include:
A valid Class A CDL
At least 22 years old
9+ months of experience for truck driving school graduates and 18+ months experience for non-graduates
No positive drug tests
A stable and verifiable work history
No preventable DOT accidents within the last 18 months
An acceptable driving record
Must be able to pass the DOT drug screen and physical, and meet DOT requirements
ACT maintains strict driver requirements in order to ensure that they hire only the best talent around. A career as a company driver comes with a number of benefits, too.
Company Driver Benefits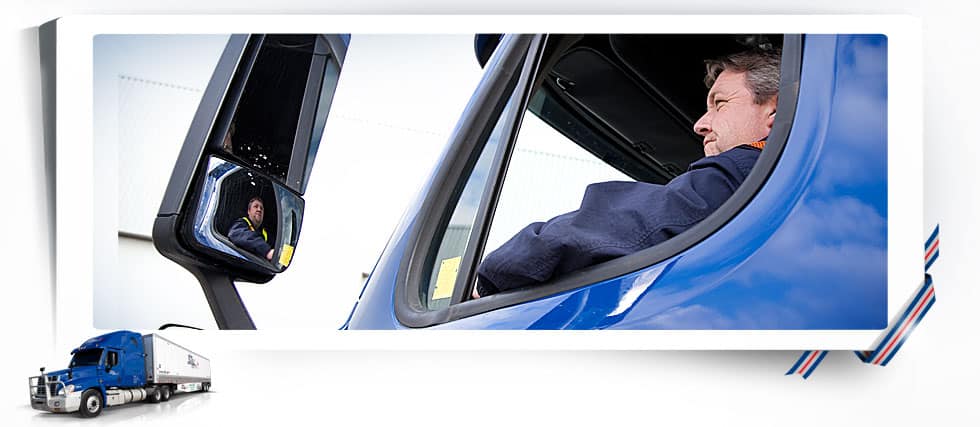 Working with American Central Transport as a company driver will provide you with a number of benefits, including:
Medical & Life Insurance
AD&D and basic life insurance is provided at no additional cost
Medical insurance through Blue Cross Blue Shield. Insurance is subsidized by ACT, so premiums are lower. Coverage includes a nationwide network of pharmacies and prescription drugs.
Dental and Vision Insurance
Full dental and vision plans are also available to ACT company drivers.
Additional Insurance
Long-term disability
Short-term disability
Term life insurance
ACT Pay Scale
American Central Transport offers their drivers excellent pay with rates starting at $0.50 a mile. Drivers have the opportunity to earn more if they decide to become owner operators or join the company's lease purchase program.
ACTivate Careers Program
Looking to get a jumpstart on your career at American Central Transport Inc.? ACT's ACTivate Careers Program can help you build a career that you can be proud of.
The program starts with the basics – training as a company driver. ACT offers a well-established company driver program that will help you learn the ropes and get your career started.
From here, drivers can eventually move onto becoming an independent owner-operator through the lease purchase program.
Meanwhile, you'll get all the driving experience and classroom training you need to succeed.
Eligibility
Military personnel who have been recently discharged and hold a Class A CDL.
OTR drivers who have been off the road for at least one year.
Program Phases
The ACTivate Careers Program has three phases:
Phase 1 (Weeks 1-3)
Refresher course to catch you up on company policies and new technology
Driving for 2,100 to 4,000 miles with a trainer to help you every step of the way
Phase 2 (Weeks 3-4)
Work as a company driver and will be assigned your own truck
Be under a 60-day probation period
With 9 months, you can earn up to 45 cents per mile
Get a Haz-Mat endorsement to increase your pay to 35 cents per mile early on
Phase 3 (Week 12 and beyond)
Get assistance in becoming a lease operator
Lease a truck through Excel Leasing and Sales
You will own your own truck within 36 months
With a Haz-Mat endorsement, you'll earn 98 cents per mile on all of your loaded miles
Take advantage of business training through the EXCEL Business Institute
American Central Transport – A Great Place to Work
Whether you're already an owner operator, or looking for a reputable lease purchase program, ACT is a great place to start your career. You'll earn some of the highest pay rates in the country, and enjoy the freedom of being your own boss.