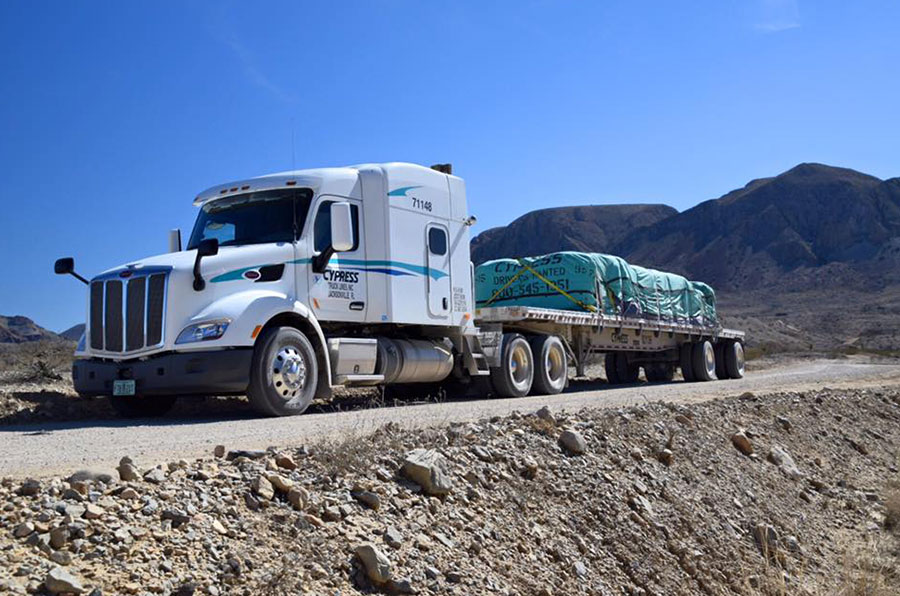 Cypress Truck Lines was founded in 1972 in Jacksonville, Florida and remains a family-owned and operated trucking company. The company prides itself on treating their employees like family, with great benefits, industry opportunities and pay.
The company is a dedicated flatbed carrier.
Cypress Trucking Jobs
Cypress has a mix of freight options, which allows truckers to stay on the road all year long. OTR and regional runs are available, and industry-leading equipment is in use to keep safety high. The company does not hire:
Owner operators
Teams (although there are some within the company)
You'll need to expect long days and a lot of tarping and untarping as part of the position. You'll have home time every 34 hours, and you won't be paid for offloading hours. If you're assigned the right dispatch, you can expect a lot of great hours and a steady flow of work.
You will be running a dedicated regional route with home time every weekend.
Pay and Benefits
First year drivers receive $40,000 to $50,000 in compensation, with the following benefits:
Paid holiday
Paid vacation
50%, 401(k) match up to 6% gross
Health insurance
$1,000 driver referral bonus
Safety bonus
Performance bonus
Detention pay
Layover pay
You'll only receive one week of vacation time for the first five years working with Cypress Truck Lines.
Based off of data from Indeed.com, you can expect to be paid a median salary of $56,228 per year. The company claims that their drivers earn between $50,000 and $75,000 annually.
Pay tends to be slightly below the national average, but you'll have home, paid and vacation time that is hard or impossible to find with other trucking companies.
Inside Look at Driving for Cypress Truck Lines
A lot of truckers have left comments about working with the company, with a lot of great reviews, and of course, some complaints. The good comments about the company are:
Pay is great if you get steady miles
Home time and off every major holiday
No forced dispatch
What negative things are people saying about the company?
Dispatch and managers can show favoritism, which leads to you not receiving a lot of hours.
A lot of companies leave too much power in the hands of dispatch. Cypress Truck Lines seems to be one of them. The best advice is that you shouldn't get on the bad side of a dispatcher.
Drivers claim that hard work is rewarded, and that you'll get good miles and pay if you work hard. One person claims that within their first year, they were given a brand new Freightliner Cascadia, with the miles never slowing down.
Efforts for working hard are rewarded, but if you slack off, you can expect to receive low miles, as the company is always trying to build an efficient crew.
Cypress CDL Training School
When you apply, you'll have to attend orientation at one of the company's offices in either Florida, Georgia or Texas. You can expect orientation to last a week. You should arrive with all of the information required for the job, including:
10-year employment history and/or W2 or tax forms
Driver's license
Social security number
Check or deposit slip
CDL training includes four weeks of classroom instruction along with 7 to 8 weeks of paid, behind-the-wheel training.
You'll leave orientation and be on the road for 1 to 7 weeks. Orientation is $100 a day, or $500 per week maximum.
If you have less than six months experience with a flatbed, you'll have to spend 6 weeks with a trainer. Anyone with more experience than this will be evaluated to determine how long you'll need to spend with a trainer. You may only have to spend 2 to 6 weeks with a trainer if you have adequate experience.
You'll want to bring a lot of items with you to orientation, including:
Clothes
Money
Stationery
Calculator
Toiletries
Every class has six to ten students in the classroom, so they're small, intimate classes that are perfect for anyone trying to get their CDL.
A downside of the Cypress CDL training school is that there's no guarantee that you'll be home every weekend. Be prepared to be out on the road so that if you do get to go home, it's a nice surprise.