How Much Do Walmart Truck Drivers Make?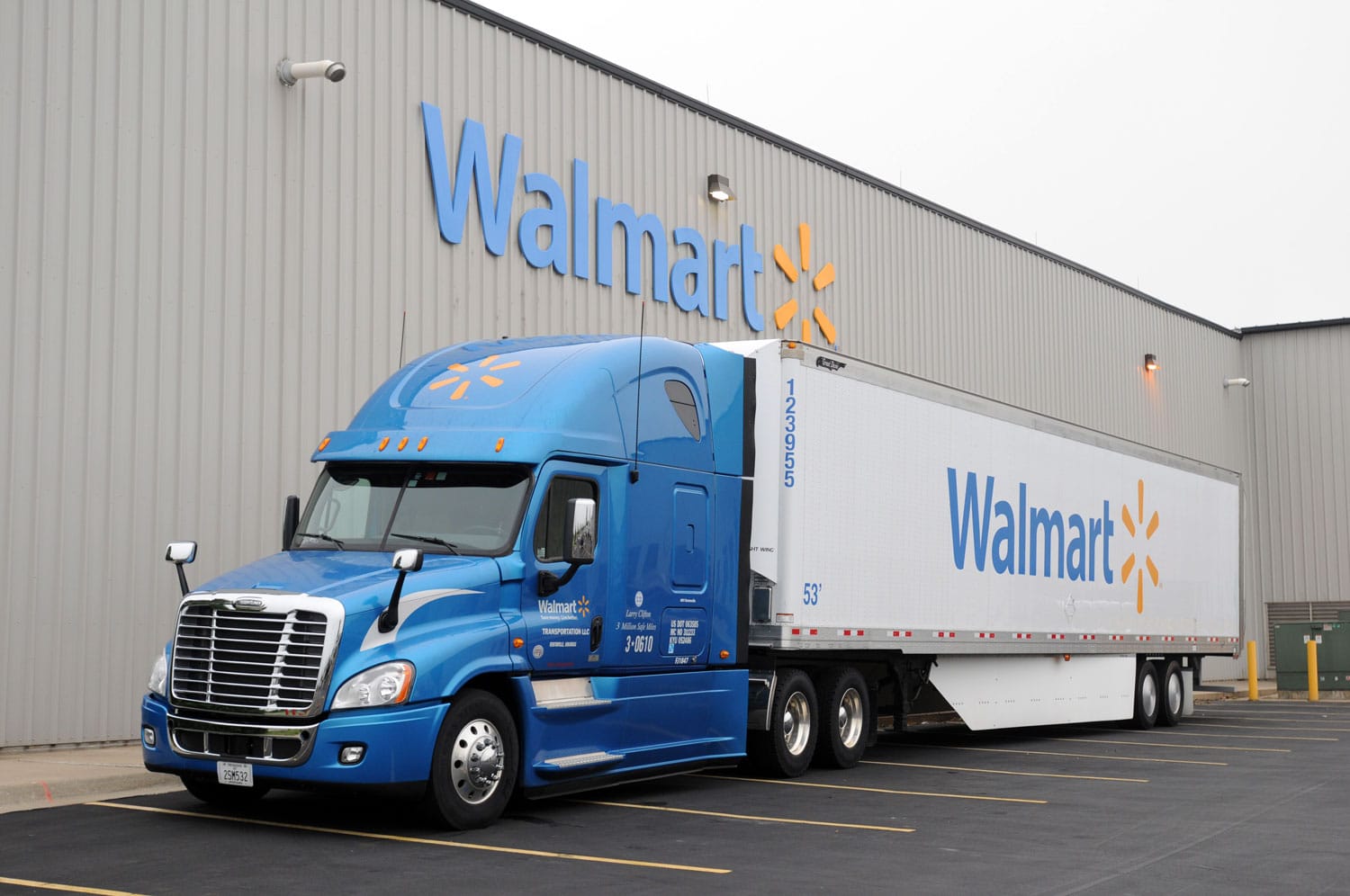 Walmart, one of the largest retail companies in the world, relies heavily on truck drivers to transport goods from its distribution centers to stores across the country. As the transportation sector becomes increasingly competitive, Walmart has made efforts to attract and retain skilled truck drivers by offering competitive salaries and benefits.
According to recent data, Walmart truck drivers can now expect to start at a salary of $95,000 per year.
This figure is significantly higher than the national average for truck driver salaries in the United States. In addition to the attractive starting salary, Walmart truck drivers can also enjoy benefits such as Earned PTO, 401K, medical, dental, and company-paid life insurance.
With competitive pay, comprehensive benefits, and opportunities for growth within the company, Walmart aims to become an employer of choice for truck drivers. By offering these incentives, the company hopes to maintain a reliable and efficient transportation network, which is crucial for its overall success.
Walmart Truck Driver Salary Overview
Indeed, reports a higher average annual salary of $104,682 for Walmart truck drivers, which is 43% above the national average. In California, Walmart truck drivers earn an average salary of approximately $80,791 per year, which is 10% above the national average.
Due to a nationwide shortage of truck drivers, Walmart has recently announced an increase in the salary truckers can earn in their first year – up to $110,000 per year. This initiative aims to attract more drivers to the profession and mitigate the effects of the truck driver shortage.
As a professional and reliable employer, Walmart offers its truck drivers a stable income with the potential for bonuses and benefits. The salary rates mentioned vary based on factors such as experience, location, and performance.
Factors Affecting Driver Salaries
Experience Level
One of the primary factors affecting truck driver salaries at Walmart is the driver's experience level. As a first-year truck driver for the retail giant, individuals can expect to earn a starting salary ranging from $95,000 to $110,000. As they gain more experience and reach longer tenures, their salary potential naturally increases, reflecting their expertise and skill set.
Location
The location of a truck driver's work can also influence their salary. Some regions may have higher demand for truck drivers, driving up the pay in those areas, while other locations might have lower costs of living, making salaries relatively lower. However, even with these location-based differences, Walmart's increased salary offerings ensure competitive compensation for their truck drivers nationwide.
Certifications and Endorsements
Truck drivers with additional certifications and endorsements can expect higher pay as a result of their specialized skill sets. These specialized qualifications may include hazmat endorsement, tanker endorsement, or advanced safety training certifications. By obtaining and maintaining these certifications, Walmart truck drivers demonstrate their commitment to safety and proficiency, which can lead to increased earning potential.
Although several factors can influence truck driver pay at Walmart, the company has recently taken strides to offer competitive pay to attract and retain qualified drivers. Walmart's increased starting salary and commitment to providing top-notch training put their truck driver compensation at the forefront of the industry.
Walmart Benefits and Perks
Walmart truck drivers can expect to receive a comprehensive package with numerous benefits and perks to ensure the well-being and satisfaction of its employees.
Health and Insurance
Walmart provides truck drivers with a competitive health and insurance policy. This includes medical, dental, and vision insurance to cover themselves and their families. In addition, the company offers life insurance options, disability coverage, and employee assistance programs for mental health and other support services.
Retirement Plans
Investing in the future is essential, and Walmart understands that by offering retirement plans for their truck drivers. The company provides a 401(k) plan with a company match, allowing the drivers to save for their retirement while receiving additional contributions from Walmart. This helps the drivers secure their financial future and enjoy substantial savings over time.
Paid Time Off
Rest is necessary for overall health and job performance. Walmart truck drivers are entitled to paid time off that includes vacation days, personal days, and occasional paid holidays. This allows drivers to recharge and spend quality time with their family and friends while maintaining their well-being.
Walmart is committed to providing a competitive salary and extensive benefits package for truck drivers. These benefits and perks not only make the job more attractive but also demonstrate the company's focus on employee welfare and satisfaction.
Comparing Walmart Truck Driver Salaries to Industry Standards
Walmart is known for offering competitive salaries for its truck drivers. They recently announced an increase in the average starting salary for first-year drivers, ranging from $95,000 to $110,000. This is a significant boost compared to the previous starting salary of around $88,000.
In comparison, the average salary for a long haul driver in the United States is around $56,491 per year. Walmart's starting wage nearly doubles the industry standard, making it an attractive option for individuals looking to pursue a career in truck driving.
According to Glassdoor, the total pay range for Walmart truck drivers (including base pay and additional pay) varies between $47,000 and $68,000 per year. However, this data might not yet reflect the recent changes in Walmart's starting salary for truck drivers.
Walmart's commitment to competitive pay is further displayed by its willingness to cover the costs associated with obtaining a commercial driver's license (CDL). They cover expenses of around $4,000 to $5,000 for their drivers' CDL training and offer signing bonuses that can exceed $10,000.
It is clear that Walmart's truck driver salaries surpass the industry standards. In a competitive job market, offering higher wages helps Walmart attract and retain skilled truck drivers to maintain the efficiency of their logistics operations.
Career Growth Opportunities for Walmart Drivers
Walmart is known for offering competitive wages to its truck drivers, as well as providing valuable growth opportunities within the company. In their initial year, truck drivers at Walmart can earn a starting salary of $95,000 to $110,000, making it an attractive career choice.
One of the strengths of working at Walmart is the ample opportunity for career progression within the transport division. Truck drivers can look forward to a variety of schedules and regionalized delivery options, leveraging their experience and skills to transition into other roles like dispatching, freight handling, and transportation management.
Walmart supports its truck drivers by investing in modern equipment and technology. The company frequently updates and replaces its fleet of tractors, with new vehicles eligible for replacement at 525,000 miles. This ensures that drivers have access to reliable and efficient trucks that not only make their jobs easier but also contribute to a safer working environment.
In addition to competitive pay and top-notch equipment, Walmart promotes a positive working environment by offering comprehensive benefits packages, including health insurance, retirement plans, and even employee discounts. This strong emphasis on employee well-being contributes to increased job satisfaction and ultimately opens up opportunities for advancement.
Finally, Walmart's commitment to safety training and quarterly safe driving bonuses further enhance the career growth prospects for its truck drivers. By promoting a culture of safety and professionalism, the company ensures that its drivers are well-equipped to take on new challenges, while also being rewarded for their dedication to excellent performance.
In summary, Walmart truck drivers have access to promising career growth opportunities due to competitive pay scales, a commitment to safety, ongoing investments in technology, and comprehensive employee benefits. By joining the Walmart transportation team, drivers can expect a supportive environment that fosters professional growth and long-term success.
Frequently Asked Questions
How much can a Walmart truck driver earn?
A Walmart truck driver can earn a significant salary, with new drivers being offered salaries between 95K-$110K a year. The pay per mile for a Walmart truck driver is 0.89 for the first year, which adds up to an average annual salary of about $87,500. As drivers gain experience, their salary may increase further.
What benefits do Walmart truck drivers receive?
Walmart truck drivers receive competitive benefits such as 401K, medical, and dental coverage. Company paid life insurance and short term disability are also provided. Additionally, drivers may be eligible for up to four paid safety days per year and activity, training, and mileage pay from day one.
What are the requirements to become a Walmart OTR driver?
To become a Walmart truck driver, candidates need to meet certain standard requirements such as CDL licenses; however, the exact requirements may vary based on the specific driving position. It is highly recommended to check Walmart's careers page or reach out to their recruiting team for the most up-to-date details on requirements.
How is the work-life balance for Walmart truck drivers?
The work-life balance of a Walmart truck driver may be better than other trucking jobs due to the weekly home time offered by the company. Walmart truck drivers are also not subjected to split days off, consecutively allowing more time for personal matters and a better work-life balance.