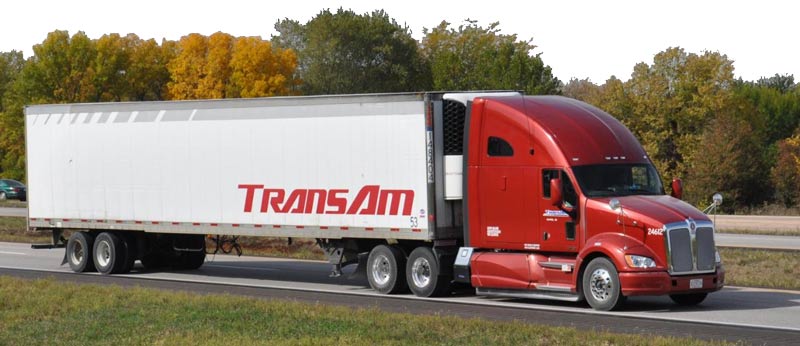 Trans Am is a leader in the temperature-controlled freight industry. Founded in 1987, Trans Am operates more than 1,400 tractors and 2,400 trailers from its headquarters in Olathe, KS. Since opening its doors, the company has developed a reputation for being a great company to drive for. In fact, other drivers and training school personnel often recommend Trans Am to drivers who are just getting started in the business.
We've read countless positive Trans Am trucking reviews, and after seeing the company's benefits and pay, it's easy to see why truckers love driving for Trans Am.
Trans Am Employee Benefits
What attracts you to a trucking company? If you're like most people, you'd probably say the company's benefits. Trans Am cares about its drivers and offers great benefits to employees. As an employee, you'll receive:
Health and dental coverage for you, your spouse and your children
Paid vacation time
Free life insurance
401(k) plan
Cafeteria 125 Plan
Independent contractors are given free permits and base plates, access to a fuel discount network, no-cost TransFlo remote paperwork processing and free tolls.
Trans Am Tuition Reimbursement
Training to get your Class A CDL license? Trans Am offers its drivers access to personalized instruction as well as classroom training. Student drivers gain knowledge from the company's staff of trainers who teach drivers backing maneuvers, over the road procedures, safety procedures and the company's paperwork requirements. Trainers will help you get acquainted with Trans Am's procedures and put you on the fast track to success.
Trans Am also offers student drivers a tuition reimbursement program. If you've yet to earn your license, the company will invest in your education and help you pay back your school loan. They hire students who graduate from truck driving training programs all over the country, and will reimburse you up to $6,000 on tuition fees. With such a generous program, there's never been a better time to train and earn your Class A CDL license.
What About Experienced Drivers?
What if you already have your Class A CDL license? If you've already secure your license, you'll need to attend a simple three-day orientation at a Trans Am terminal in Olathe, KS or Rockwall, TX. You'll also be paid for completing this simple orientation.
Who qualifies as an experienced driver? Someone with:
A Class A CDL
No DUI convictions in the last two years
An excellent driving record
No more than two preventable accidents in the last three years
Experienced drivers must be at least 21 years of age. A drug screen and DOT physical are also required.
Trans Am Trucking Pay

You know Trans Am is a great company to work for, but how much do they pay?
Independent contractors start out with a pay rate of 84 cents a mile. All independent drivers are eligible for a 1 cent per mile increase each year.
Experienced drivers will start out earning 32 cents per mile. All experienced drivers are eligible for a 0.5 cent per mile increase every six months.
All drivers at Trans Am are eligible for regular raises and quarterly bonuses. And if you're looking to graduate from a company driver to an independent contractor, Trans Am can help you do that too.
Trans Am Leasing Program

Want to be your own boss? Trans Am offers great benefits and pay rates to company drivers, but becoming an independent contractor will give you the freedom and flexibility you crave. To help drivers graduate to independent contractors, the company offers a leasing program that rivals all other programs in the industry.
The leasing program is offered through Trans Am leasing, a subsidiary of Trans Am Trucking. Short-term lease options are available, and incentives are given to those who complete their lease term.
Through the leasing program, you can become a part of Trans Am's owner operator program, which offers:
Great miles
84 cents per mile – empty or loaded
Discount fuel network
Paid permits and base plates
Easy-to-understand contract
99% hands-off freight
No hazmat
Stop pay $40
Paid reefer fuel and tolls
Tax advantages
No-cost TransFlo remote paperwork processing
100% lumper reimbursement
Bonus program
Independent contractors gross, on average, more than $130,000 per year. Trans Am gives you the tools you need to become your own boss and earn a great living on the road.
Trans Am is a leader in the trucking industry and a great place for you to start your trucking career. If you've yet to earn your license, they'll help you complete your training – and reimburse you for your tuition. If you're already a seasoned pro, you'll earn a great starting rate and get plenty of consistent miles. And as an independent contractor, you'll earn the highest paying rate and gain the freedom of being your own boss. With great starting pay, bonuses and room to grow, Trans Am has a lot to offer both new and experienced drivers.
Company History
The company has experienced tremendous growth since its inception in 1987 and presently has terminals in both Texas and Kansas. As a U.S. EPA SmartWay transport partner, TransAm Trucking commits to keeping its operations as economically friendly as possible and strives to reduce the impact it has on the environment. Due to its continued efforts in this arena, TransAm Trucking won the U.S. Environmental Protection Agency's Environmental Excellence Award.
At TransAm Trucking's leasing subsidiary, TransAm Leasing, Inc., Kenworth T660s and T700s featuring the PACCAR MX engines are utilized. These engines not only provide 485 horsepower, they meet 2010 diesel engine emissions regulations set by the EPA. TransAm Trucking takes pride in providing drivers with the Kenworth brand, which has won J.D. Power and Associates awards in the categories of Highest in Customer Satisfaction and Heavy Duty Dealer Service. In addition to state-of-the-art equipment, TransAm Trucking offers those who lease numerous benefits, which include reimbursement for loading and unloading, paid reefer fuel, paid washouts, and permits; and much more. TransAm's leasing program also provides weekly settlements, free TripPak service, a fuel surcharge program, both short- and long-term leasing options, and bumper-to-bumper warranties on its trucks.
TransAm Trucking also offers those who are 21 years of age with an excellent driving record the opportunity to train to become a company driver. The program includes 25 hours of classroom and 24 hours of training pad instruction, as well as 160 hours of on-road driving. Drivers participate in 401(k) plans with company matching, safety awards programs, paid vacations, generous passenger plans, and medical and life insurance offerings. Student drivers earn 30 cents per mile after training, as well as quarterly bonuses, while trainees earn $50 daily.
TransAm Trucking has grown by leaps and bounds since its establishment in 1987. This truckload carrier has become a trusted name in transportation services and an industry-leading outfit. With headquarters in Olathe, Kansas, TransAm Trucking sits on 40 acres of land, and in 2005 the company opened a terminal in Dallas, Texas. There, an additional 250 power units reside, which add to the company's total of more than 1,200 tractors and more than 2,400 refrigerated trailers. TransAm Trucking believes its success in the temperature-controlled freight industry has come about through its dedication to both its customers and its employees.
TransAm Trucking's subsidiary, TransAm Leasing, Inc., offers leasing options for drivers, which gives them the opportunity to make approximately $40,000 more than company drivers over a four-year period. TransAm Trucking's independent contractors are paid $0.84 per mile and can earn quarterly bonuses. There are a host of other benefits, including no trailer rental fee, paid trailer washouts and shags, reimbursement for loading and unloading, and much more. TransAm Leasing, Inc., uses Kenworth T660 and T700 as its model offerings, and all trucks come with excellent warranties.
TransAm Trucking's cutting-edge technology offers temperature readings every five minutes as opposed to the typical once a day, and customers can receive reports on a per-load basis. Provided in real time, TransAm Trucking's equipment monitoring and temperature readings keep information current and identify monitoring issues as they happen. TransAm Trucking personnel are notified via alarms should any issue occur, and shipments are tracked using cell sites.
TransAm Trucking also dedicates company manpower and funds to help keep company resources environmentally friendly by minimizing the impact of their equipment. Recognized as a U.S. EPA SmartWay transport partner, TransAm Trucking has won the Environmental Protection Agency's Environmental Excellence Award for its efforts in this area.
TransAm Trucking strives to maintain steady growth and, through its dedication to customer and employee satisfaction and its well-known, trusted service, continues to experience increased revenue despite the economic downturn.