Trucking Companies in Mississippi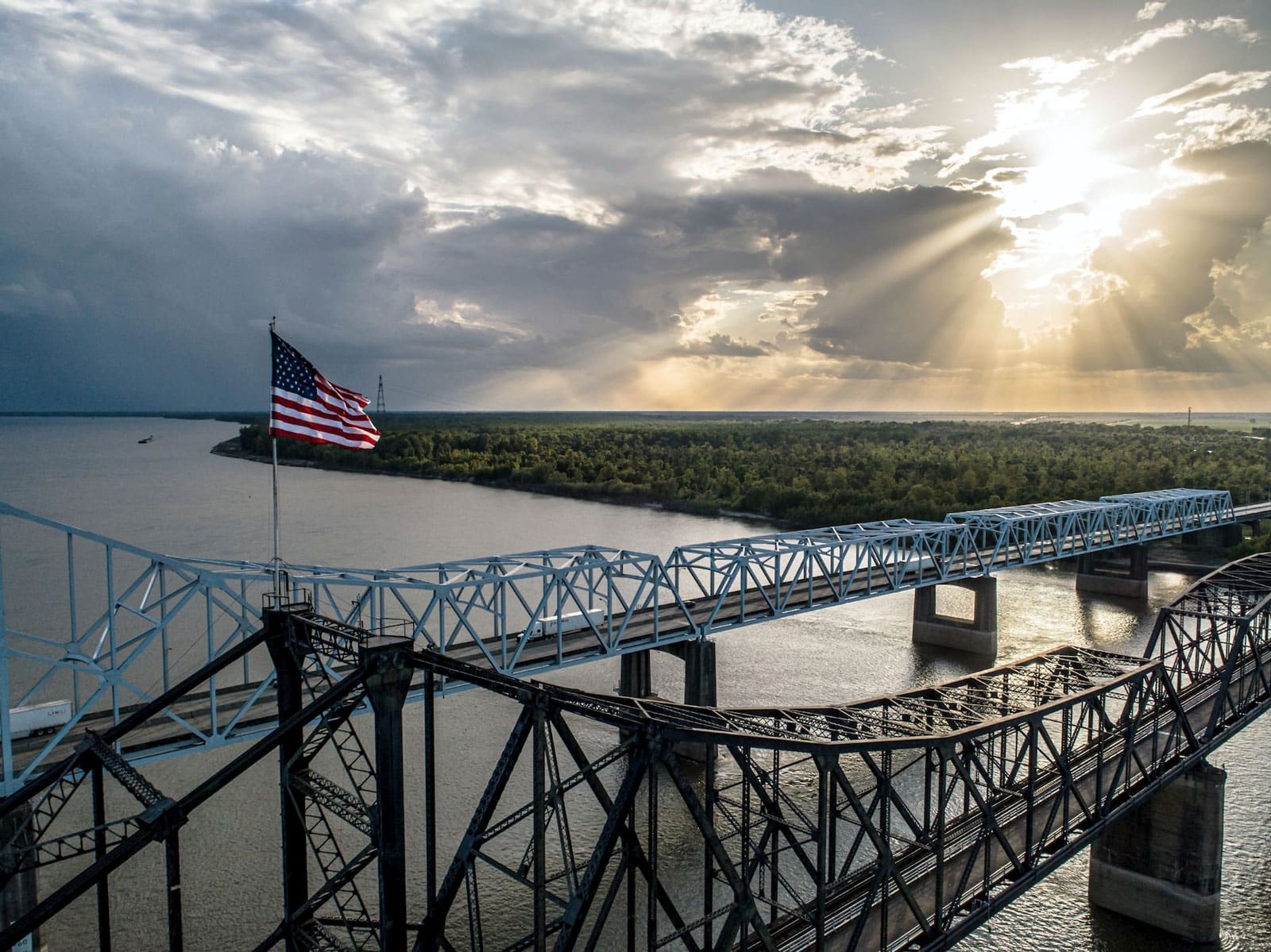 Mississippi trucking companies are hiring qualified drivers to fill their ranks. If you're considering hauling in the state, you'll find over a dozen trucking companies in Mississippi known for their rapid growth and good pay.
Best Mississippi Trucking Companies
There are more than 5,000 trucking companies operating in the state. The list of fleets below are the leaders in the state:
Total Transportation of Mississippi
TOTAL has been in business for more than 30 years and has a fleet of over 1,100 drivers. As the company continues to grow, they offer an expanding list of services to better meet the needs of its customers.
The fleet is known for having three times the national average of female drivers.
Biannual pay increases, bonus programs and great benefits are part of driving for TOTAL.
Martin Transport
Martin is an independent trucking company will locations across the United States. Since operating its first truck in 1951, Martin has shifted from supplying fuel to drilling rigs to much more. Today, the company considers itself a resource carrier and focuses on many sectors: asphalt, bulk tank liquids, fuel oil, natural gas, sulfuric acid and more.
The transportation company has over 20 terminals and 1,300+ trailers.
Jordan Carriers
Jordan Carriers has been in operation since 1992 and is known for its great pay and impeccable service. Drivers will be part of one of the many divisions the company maintains, including flatbed and wind divisions.
Drivers receive great pay packages starting at $0.57 CPM and going up to $0.69. Benefits, vacation and retirement benefits are offered to all truck drivers.
Royal Trucking Company
Royal Trucking Company is one of the most famous Mississippi trucking companies and has been in operation since 1968. Fleet drivers will include vans, flatbeds and special equipment options.
A customer-centric approach and multiple employment options are available. You can join the team as an owner-operator or company driver. Multiple benefits are available, including a cafeteria plan, coverage for intensive care, accidents and other great perks.
TP Trucking
TP Trucking has opportunities across the country with drivers needed for long-haul trucking, short-haul runs, flatbed, heavy hauling and dedicated hauling. For over 50 years, TP Trucking has been an award-winning company and has transitioned into an operation that serves Canada and the lower 48 states.
Amistad Freight
Amistad Freight, Inc. is one of the trucking companies in Mississippi that has been specializing in dry and refrigerated truckloads. Members of the fleet operate newer model vehicles and tractors.
All vehicles are equipped with GPS, allowing for on-time deliveries and accurate mileage.
MCH Transportation
MCH Trans has been operating for over 30 years and has built its long-lasting fleet on the backbone of teamwork. The fleet has a long list of dedicated service clients, including many Fortune 500 brands that need reliable freight delivery routinely.
Terminals are scattered across Mississippi, including McComb, Jackson, Hattiesburg and Tupelo. Drivers receive excellent, competitive pay packages, insurance, assigned tractors and more.
Woodard Eubanks and Sons
Woodard Eubanks and Sons is an up-and-coming trucking fleet that is known for hauling items locally and cross-country. The fleet has been in operation since 1982 and specializes in the land-forming sector.
Commercial activities in this sector began 12 years ago and has GPS and track hoes.
Due to its small fleet size and family-oriented operations, the company maintains an exceptional service known for its dedication and commitment to customers.
Powell Transportation
Powell Transportation opened in 1993 with just a few trucks. Today, they have more than 70 trucks in their fleet, with terminals in both Flowood and Columbia.
The company serves the entire continental U.S. Drivers enjoy weekly home time, a generous sign-on bonus, medical insurance, retirement benefits and more.
While they haul a variety of commodities, the company specializes in wooden utility poles.
ADD Trucking
ADD Trucking launched its operations in 2000 as a small trucking operation. The company is headquartered in Sebastopol, and the facility offers fueling stations, a dual bay truck shop and a truck yard.
The company is family-owned and operated.
Bud Coley Trucking
Bud Coley opened its doors in 1990 and is a member of the MTA – Mississippi Trucking Association. They specialize in hauling general freight and logs, poles, lumber and beams.
Drivers enjoy weekly home time, a sign-on bonus, late-model equipment, mileage bonuses, insurance and more. Their freight is 96% no-touch, with 2% drop and hook and 2% driver-assist.
Sojourner Trucking
Sojourner Trucking has been in operation for more than seven decades. They offer flatbed, dry van, tanker and heavy haul services. Typically, the company hauls steel, pallet freight, lumber and other construction materials.
The company serves central Mississippi as well as the rest of the continental U.S.
Drivers receive ample home time and comprehensive benefits.
Cliburn Tank Lines
Cliburn Tank Lines specializes in liquids/gases transportation – specifically petroleum products, liquid carbon dioxide and dry ice. The company has been in operation since 1978. Today, they operate a fleet of 32 trucks and 40 trailers.
Drivers must have at least two years of experience to be considered for hiring. Company drivers receive a full benefits package, including paid vacations, a 401k plan, health insurance and more.
Holmes Trucking
Holmes Trucking has been in operation for more than four decades. Drivers are paid in practical miles and receive a wide range of benefits, including regular bonuses, weekly home time, a cafeteria plan, one-on-one training and more.
Practical miles mean that drivers are paid for the shortest drive time and not the shortest drive distance.
The company serves all of the U.S. and has 100+ late-model power units.
AAA Cooper
AAA Cooper was founded in 1955. They offer truckload, less-than-truckload, brokerage and dedicated contract carriage services. The company has facilities in the Southeast, Midwest, Southwest and Puerto Rico.
Drivers enjoy a comprehensive benefits package as well as tuition reimbursement and other perks.
In total, the company has 3,000 tractors and 7,50 trailers. AAA Cooper is an independent subsidiary of the publicly traded Knight-Swift Transportation Holdings.
KLLM Transport
KLLM Transport has been in business since 1963 and specializes in perishable commodities. Today, they are one of the largest temperature-controlled carriers in the U.S., with eight terminals across the country.
Along with hiring company drivers, KLLM also has options for expedited team drivers and a lease purchase program. For aspiring drivers, KLLM has three academy locations (Mississippi, Texas and Indiana) that offer driver training. Their 22-day CDL course is fully accredited.
Ralph Walker Inc.
Since 1947, Ralph Walker Inc. has been serving customers. The company transports general commodities. Their aim is to provide customers with reliable freight services to any destination. Along with trucking services, they also offer brokerage, trailer washout and pallets for sale.
Conclusion
These are some of the top trucking companies in Mississippi. If you're considering a career as a trucker and live in Mississippi or a nearby state, any one of these companies will offer stable, solid employment with room to progress to an owner-operator if you wish.
There are thousands of trucking companies in Mississippi, but not all of them offer the same level of job security as the ones on the list above.