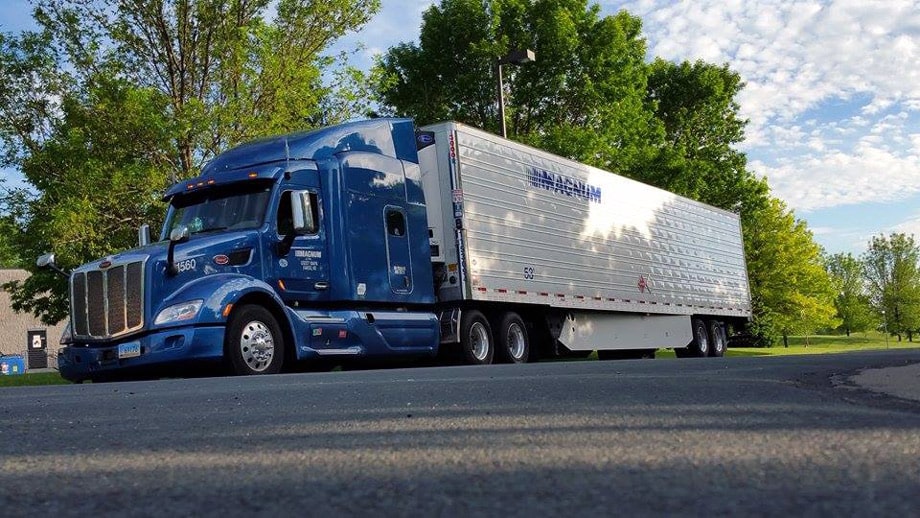 Magnum Trucking has been in business since 1978, when they were known as Gadberry, Inc. Three years later, Magnum, Ltd. was formed and has grown into the award-winning carrier it is today. Since 1998, the company has maintained more than 500,000 square feet of warehouse space.
Today, they employ more than 950 people and operate terminals in seven states. They are still headquartered in Fargo, ND.
Magnum has been named Carrier of the Year by Pella and Vantix.
The Magnum Companies Services

Magnum Transport offers a wide variety of solutions, including truckload, LTL, dedicated, warehouse and logistics.
Truckload
Magnum's over the road (OTR) truckload solution services the lower 48 states. They have both refrigerated and dry van trailers, but they also offer specialized services, including:
Hazardous materials (with the exception of waste or materials that may compromise trailer integrity).
Temp-controlled hazardous materials.
Flatbed services in ND, MN and SD.
Magnum can provide drop trailers and handle shipments with multiple stops.
LTL
Magnum's LTL division offers next-day service to most points within their service area. The company provides consolidation and distribution services within their service area.
Next-day delivery is available to most points within their direct service area, which includes ND, SD, IA, MN, and some parts of MT, WI, NE and IL.
Magnum also offers a special expedited service called Blue Bullet Expedite for LTL customers within their direct service area. This special service includes:
Same-day service
24-hour service
Emergency pickups and deliveries
Disaster transport services
Door-to-door
Exclusive use
Time-definite deliveries
Dedicated
Magnum Dedicated was formed in 2008 and was created to serve large customers who want to use the company exclusively for their needs. They also offer a regional fleet for 500 miles or less shipping for dry load freight.
The company can dedicate up to 50 truck and drivers per dedicated customer. Magnum freight regional fleet serves IA, MN, northern IL, eastern NE and eastern ND.
Logistics
Magnum helps their business partners optimize their supply chain by providing a focused strategy to meet their needs.
For some customers, Magnum's team also serves as a complete transportation administration. Their team can organize and manage inbound and outbound shipments, and consolidate all activities into a convenient weekly bill.
Warehouse
Magnum manages more than 500,000 square feet of warehouse space. Warehousing can be integrated into inbound or outbound freight. They also provide kitting and light assembly services.
For customers that import materials or merchandise, Magnum's bonded warehouses provide storage solutions that defray import duties until goods are shipped out from the warehouse.
Food-grade items can also be received, stored and delivered right from Magnum's warehouses.
Driving Careers at Magnum
Magnum offers a wide range of positions for drivers:
Local: Weekdays. Home daily. Overtime pay. Hourly pay rate ($20/hr).
Dedicated/P&D: Weekdays. Home daily. Competitive hourly rate.
OTR: Average 2,500-3,000 miles per week. Flexible home time. Up to $0.65 cpm. Average earnings are $68,000 annually. Drivers receive a $3,000 sign-on bonus.
Line Haul: Weekdays. Home daily. Average salary of $60,000-$85,000/year.
Maverick Driver: Days and hours vary, but most are home on weekends. Average salary of $70,000-$80,000/year. Elite drivers only.
In order to drive for Magnum, you must have:
A valid Class A CDL
1 year of recent driving experience
Clean driving record
Forklift experience preferred for some positions
Hazmat and tanker endorsements preferred/required for some positions
Some positions will have special requirements that will be listed in the job posting.
Benefits
Employees at Magnum receive a comprehensive benefits package that includes:
Company-paid medical insurance
Vision and dental
401(k) w/company contribution
Supplemental insurance available
Employee assistance program
Paid time off
Rider program available after 6 months
Pets allowed with a deposit
Paid through Transflo
Direct deposit weekly or bi-weekly
Paid tolls and scales
Layover, detention and breakdown pay
Referral bonus up to $2,000
Paid orientation
Driver Apprentice Program
Those who are interested in a driving career but have not obtained their CDL can take advantage of Magnum's driver apprentice program. The program allows students to earn while they learn.
The program's instructors guide students through six weeks of training. Students are paid $14/hour and attend training for 40 hours a week. Pay rates increase after earning a CDL.
The training prepares students for the CDL test and covers: vehicle inspections, safety, shifting, vehicle systems, control systems, hazard awareness, day-to-day administrative duties and more.
After training, students will be assigned to a position within the company.
Magnum hires throughout most of the U.S. In addition to driving opportunities, positions are also available in dispatching, accounting, marketing, management, maintenance and more.