Who Can You Trust to Ship Your Car?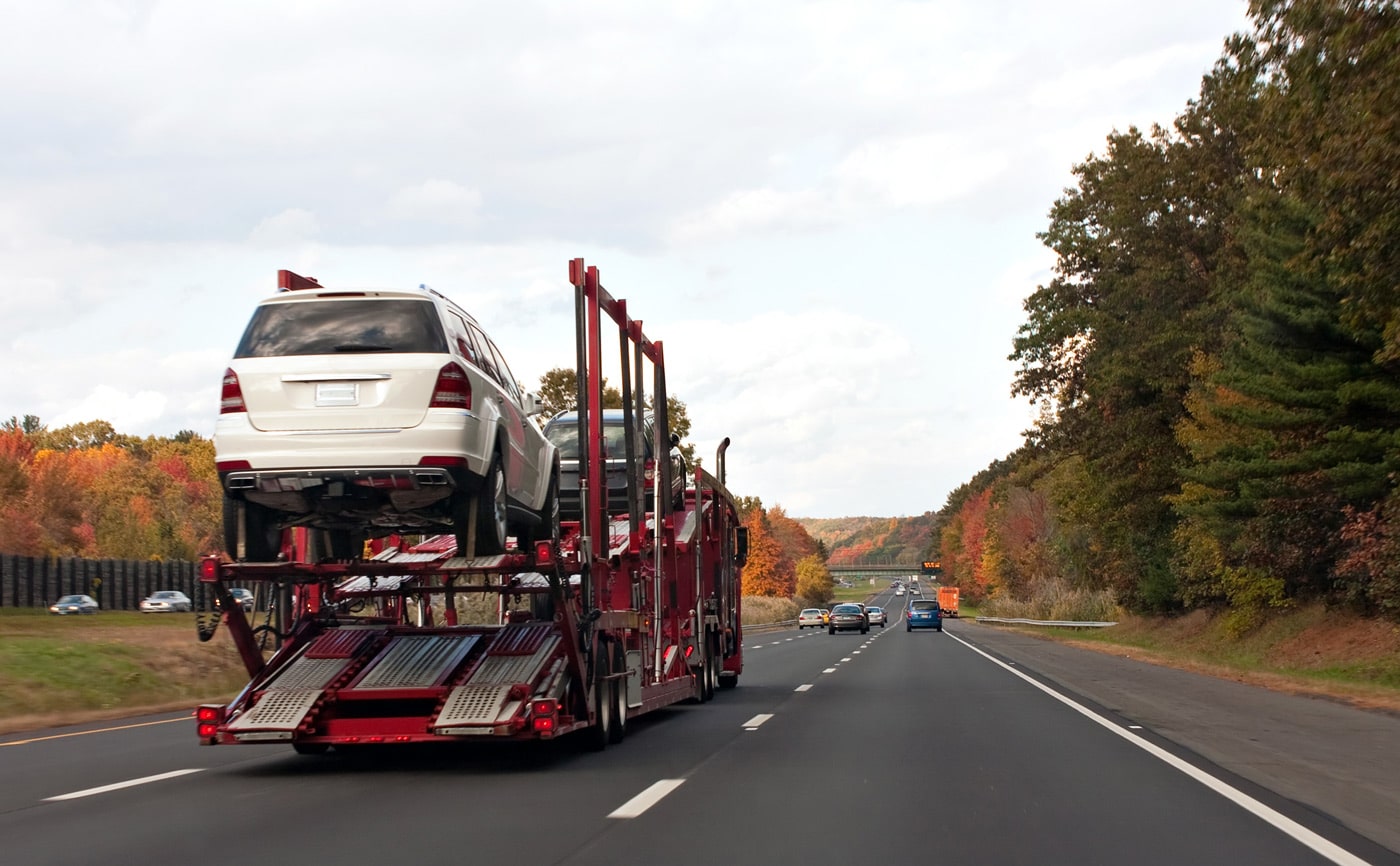 Moving across the country is a daunting task. Along with packing, you have to worry about hiring movers (or planning to drive a moving truck yourself) and figuring out how you're going to get your car to your new home.
Your car is one of your most valuable assets. You have enough trouble finding a trustworthy mechanic. What about finding someone you trust to ship your car?
Fortunately, there are several trustworthy auto transport companies (we'll share some of the top ones). There are other things to consider, too, like cost, insurance and delivery options.
How Much to Ship a Car?
The cost of shipping a car varies greatly and will depend on a number of factors, including the shipper itself and distance.
According to Consumer Affairs , it can cost:
$500 for cross-state transports
$1,500 for cross-country transports
International shipping will cost even more.
The size of the vehicle will also affect the cost.
Here are the estimates provided by Consumer Affairs:
For Cars
Coast to Coast: $1,105
Midwest to West Coast: $920
Midwest to East Coast: $685
North to South: $710
For SUVs
Coast to Coast: $1,270
Midwest to West Coast: $1,060
Midwest to East Coast: $785
North to South: $815
Factors That Affect Vehicle Shipping Quotes
There are several factors that will affect car shipping rates, including:
Distance Traveled: The longer the distance, the greater the cost. Along with labor costs, fuel charges and tolls will factor into the cost.
Size and Weight of the Vehicle: Along with distance, the size and weight of the vehicle will also factor into the cost. Car shipping companies can only haul a certain number of vehicles at one time, and they also have a limited amount of weight they can haul.
Time of Year: Demand tends to be much higher in the summer, so transporting your vehicle during the warm summer months will cost you more.
Make and Model of the Vehicle: Certain vehicles will cost more to ship, such as specialty vehicles, classic cars and luxury cars. The cost is higher because these vehicles typically require more special attention and services.
Another important factor that will affect the cost of shipping is the shipment method: open air or enclosed carrier.
Open Air
Shipping your vehicle on an open air carrier is typically the more affordable option, and this is because these carriers can hold up to 10 vehicles at a time.
It's much easier to find an open air carrier compared to an enclosed carrier, and the open air nature of the carrier makes it easier for the driver to notice damage and notify you of the problem early on.
While more affordable, there are some potential drawbacks that need to be considered with this method of shipping.
The main concern is that because the carrier is not enclosed, your vehicle will be exposed to the elements. Depending on the time of year, your vehicle may be sitting in the hot sun all day, or be exposed to rain, blizzards or gusty wind.
Because your vehicle is exposed, it will also be more susceptible to damage or theft while on the road.
Another problem is the length of time it takes to ship. Keep in mind that these carriers are shipping up to ten vehicles at a time. Multiple cars are being delivered at a time, which means that you may have to wait a few extra weeks to retrieve your vehicle.
Enclosed
Enclosed carriers cost more, but they do offer some great advantages. The main advantage is that your vehicle will be protected from the elements. It won't be sitting in the hot sun while on route, and it won't be exposed to the rain or snow.
Because the vehicle is inside of an enclosed carrier, there's also much less of a risk of damage and theft.
Enclosed carriers can only haul a few vehicles at a time. This means that you will be able to retrieve your vehicle more quickly compared to an open air carrier.
The only real drawback to an enclosed carrier is the high cost, and this is mainly because they can only haul so few vehicles at a time.
When Do You Pay the Shipping Company?
Speaking of cost, many of you may be wondering when you have to pay the shipping company. This is an important question, and it's one that can cause anxiety in a lot of people.
If I pay before the shipping, what's stopping the company from running off with my vehicle, or taking several weeks to make the delivery?
This is a valid concern.
But to put your mind at ease, you should know that many companies only require you to pay once the vehicle has been delivered. However, there are still many auto transport companies that will require an upfront deposit before they will ship your vehicle.
The most important thing is to avoid doing business with a shipper that will require you to pay the entire cost upfront.
Insurance Considerations
Whether you're transporting your vehicle across the state or across the country, there's a chance that your car may become damaged or even stolen in the process.
In case the worst happens, you need to know that you're protected. That's why it's so important to make sure that the shipping company has insurance before you hire them.
But you may also want to purchase a separate insurance policy just in case. Your regular insurance policy may not cover your vehicle while it's being shipped, so you may need to purchase additional coverage. Call your insurance company to find out whether your vehicle will be covered.
Do Shippers Provide Door-to-Door Delivery?
Will your vehicle be shipped right to your driveway? That depends on the carrier. Some may offer door-to-door service, but you can expect to pay a higher price for this service.
If your vehicle is shipped on an open air carrier, there's a good chance that you will have to meet the driver somewhere to pick up the vehicle (usually a shopping center with a large parking lot).
If you prefer to have door-to-door delivery, ask the shipper if they offer this service.
In some cases, these companies will only ship to a central hub, and you'll be expected to pick up your vehicle there.
What's the Best Car Shipping Company?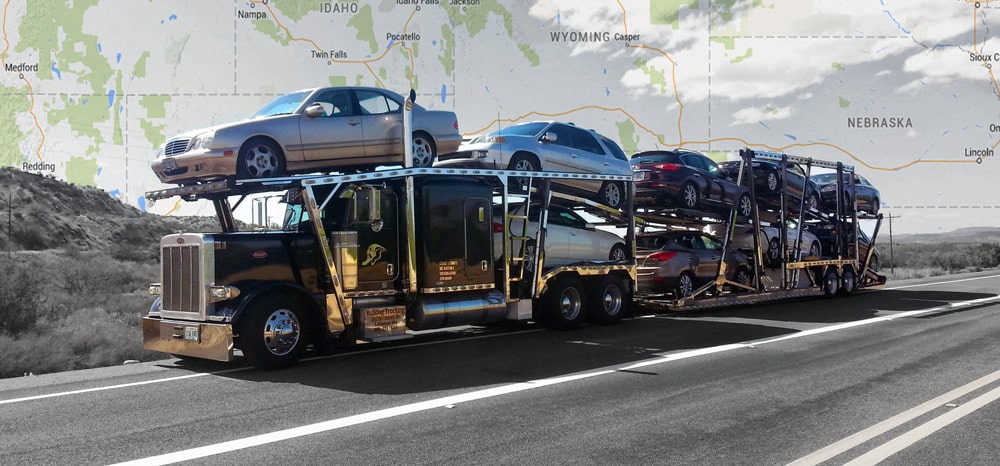 Which car shipping company should you choose?
We've done the hard work for you and found the top-rated companies in the auto transport industry.   The choice might vary depending on your unique requirements but any of the following can safely get your automobile from point A to point B.
uShip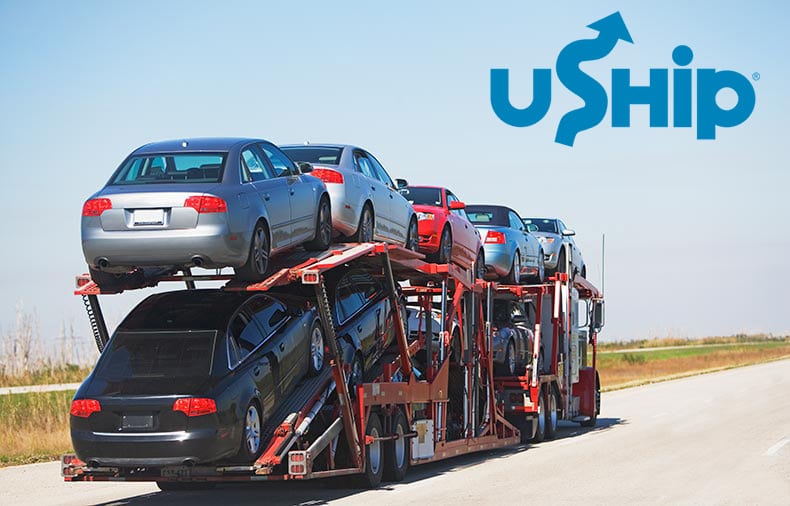 Based in Austin, Texas, uShip helps people ship vehicles – and other items – all over the U.S.
Pros
Offers a variety of shipping options
Cost to Ship index helps estimate costs
Additional insurance options available
Cons
Not specialized in auto transport
There are many reasons to consider uShip when shipping your vehicle:
Open Air and Enclosed Options
uShip offers both open air and enclosed carrier options.
Their open air carriers are the most affordable option, but they recommend using an enclosed carrier when the vehicle is valued at $50,000 or more.
Customers can choose which method of shipping they prefer, and uShip will help guide them through the process.
Shipping Rates are Competitive
When you use uShip, the first step is creating a shipment listing that details your needs for transporting your vehicle.
Once your listing is complete, you will be able to view instant car shipping rates. You also have the option of entering the shipping marketplace, which allows carriers to compete for your business.
You can click on each carrier's name to view their profile and learn more about their shipping history as well as their company. The nice thing about using the marketplace is that you can speak to carriers directly and ask them about their experience.
Ship a Car Direct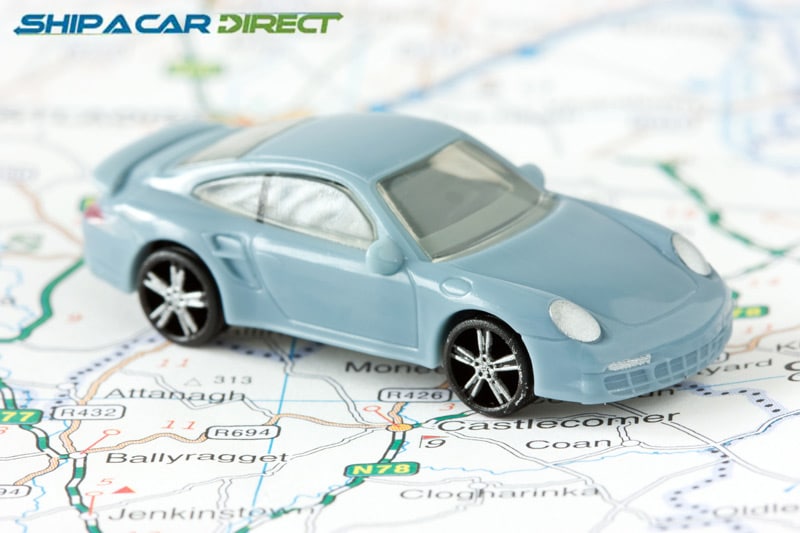 Ship a Car Direct has been in business for more than a decade, and they've had an A+ rating with the Better Business Bureau for just as long.
They consider themselves the #1 car shipping company, and you can read their positive reviews right on their official website.
Pros
One point of contact for convenience
Damage free guarantee
No deposit required
Extensive carrier review process
Cons
Delivery dates aren't guaranteed
There are many great reasons to consider Ship a Car Direct for your auto transport needs:
Damage-Free Guarantee
Ship a Car Direct offers what they call a damage-free guarantee. They review every carrier extensively, and claim that more than 80% of those who apply are rejected because they don't meet the company's elite standards.
In other words, they only hire truly professional, experienced carriers.
But in the off chance that a vehicle is damaged, the carrier's insurance will cover it. If the insurer won't cover the costs, then Ship a Car Direct will step in and help pay for the damages.
No Upfront Deposit
Unlike other auto transport companies, Ship a Car Direct does not require you to pay an upfront deposit.
You won't be asked for a deposit until you're provided with the carrier's details.
Door-to-Door Service
Ship a Car Direct offers door-to-door service, provided it's practical. The company asks for specific pickup and delivery addresses.
If the carrier is able to safely get to the addresses you provide, then they will deliver the vehicle right to your home. If the addresses are not safely accessible for a multi-car carrier, then you will need to make arrangements for a pickup nearby.
Other auto transport companies charge an arm and a leg for door-to-door service, but Ship a Car Direct does its best to offer this service as a standard.
Direct Express Auto Transport

Direct Express connects customers with auto transport carriers using a quick and simple sign-up process. No personal information is required when requesting a quote, so you view pricing without having to hand over your name, address or other identifiable information.
Pros
Quick and easy quote process
Rush shipping available
Will ship non-running vehicles
Door-to-door shipping available
Cons
Driver assignment can be slow
Open Air and Enclosed Options
Direct Express offers both open air and enclosed shipping options to meet the needs of all customers.
Three Tiers of Pricing
Customers have three levels of pricing to choose from:
Standard: Standard market rate. Shipping will take longer than the other tiers.
Expedited: A slightly higher rate, which helps push your vehicle ahead of others.
Rush: The most expensive rate, but will attract a carrier at a much faster rate.
Door-to-Door Shipping
Direct Express does not use terminals when delivering their vehicles. They work with carriers who will ship vehicles door to door, or as close as possible to the intended destination.
Running and Non-Running Vehicles
Direct Express will ship both running and non-running vehicles, but there is an additional fee for shipping non-operating vehicles: $150. The additional cost covers the extra time and care needed to haul a non-operational vehicle.

Largely considered the top auto transport company in the U.S., Montway is professional, reliable and loved by customers. The company works with more than 40,000 professional truckers who specialize in auto transport.
The process is simple:
Quote and book your delivery: Online quotes are instant. You can call or chat online with a customer service representative.
Vehicle pickup: Choose a date, time and location for your pickup.
Receive your vehicle: Wait for your trucker to notify you of delivery. Delivery will be at your driveway, or an agreed-upon location.
Pros
Top rated company
Professional, experienced carriers
Expedited shipping available
Open and closed carrier options
No upfront payment
Cons
No vehicle tracking available
Excellent Insurance Coverage
Damage can and does happen when transporting vehicles. Montway has excellent insurance coverage that will cover you in case your vehicle is damaged during transport.
Your vehicle will be covered by the carrier's insurance, but Montway also has their own contingent cargo insurance which provides coverage for up to $250,000 in case the trucker's policy won't cover the entire claim.
Personal Item Shipping
Most auto transport companies won't allow you to pack any personal items in your vehicle. Montway is different.
You can ship up to one suitcase or box (under 100lbs.) in the trunk at no additional cost.
Door-to-Door Shipping
With Montway, you don't have to go to a terminal to pick up your vehicle. You can have it delivered right to your door – as long as there's enough room for the carrier to unload.
If your home is restricted by narrow streets, speed bumps, tight turns or low-hanging trees, you may be asked to pick up your vehicle in a large, nearby parking lot (such as a grocery store).
Hawaii Delivery
Montway can help you ship your vehicle from Hawaii to the mainland, or vice versa. The process is a little more complex than mainland shipping, but Montway will walk you through every step.
From documentation to pick-up, you will be informed of everything you need to do along the way.