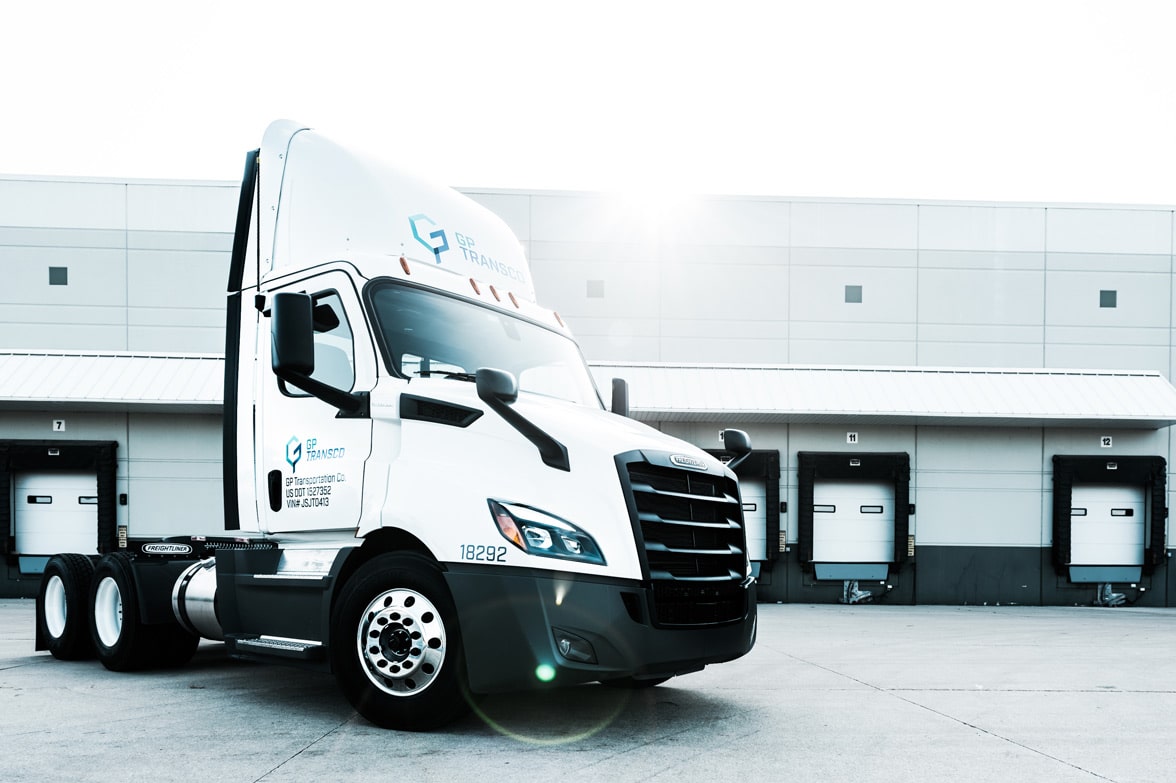 GP Transco offers reliable freight transportation and logistics services to customers across the U.S. Customers enjoy the same level of quality and reliability that a private fleet offers, but without having to invest in their own fleet of trucks.
For more than a decade, GP Transco has been a leader in the trucking industry. They offer high-paying employment opportunities for company drivers and owner operators.
Company History
GP Transco has been in business for more than 14 years. Their goal was to create a modern trucking and logistics company that prioritizes safety, environmental responsibility and the satisfaction of their employees and clients.
GP Transco's clients include some big-name brands, like Target, Macy's, Morton Salt, LG, HP, Whirlpool and Petco.
In 2020 alone, the company delivered more than 52,000 loads. Each year, their drivers travel 34 million miles and deliver 2.3 billion pounds of cargo.
GP Transco Jobs
GP Transco treats their drivers like customers. They understand that without their drivers, they wouldn't succeed. That's why they treat their drivers with the respect and honesty they deserve.
To be a driver for GP Transco, you must meet the following requirements:
Have at least 1 year of verifiable and recent experience
Have a good driving record
Have a commitment to the job
Have a professional attitude
GP Transco Pay and Owner Operator Pay
GP Transco is the third-highest paying carrier in the country.
Company drivers earn up to $87,000 per year and are guaranteed at least $1,000 per week (pre-tax income).
Solo drivers make up to 57 cpm with great miles.
Team drivers make up to 72 cpm with plenty of miles.
Owner operators take home 70% of gross with no hidden fees.
Owner operators don't have to worry about forced dispatch, trailer fees, ELD fees and other fees.
Most drivers get between 2,500 and 3,000 miles, depending on your preferences and other factors.
If you want to get a more accurate picture of how much you'll earn as a company driver, you can use the GP Transco pay calculator (it's free).
Just answer a few questions, and the calculator will tell you how much you can earn driving for their company.
According to Indeed.com, drivers earn the following salaries:
Company drivers: $51,199/year
Owner operators: $223,624/year
Company drivers can earn more through bonuses, experience and the OTP program (more on that below).
Indeed.com's survey shows that 76% of employees feel they are getting paid fairly.
Bonuses
The carrier also offers safety and performance bonuses as well as Driver of the Month awards. Other bonuses include:
Referrals
Responsible driver recognition
Fuel savings profit sharing, and more
Owner operators are also eligible for most bonuses, giving them even more opportunities to earn.
Driver Benefits
Along with top tier pay, GP Transco drivers also enjoy a generous benefits package that includes:
Medical, vision and dental insurance
Life insurance ($25,000 with the option to go up to $250,000)
Paid vacations
401(k) with 5% company match, and more
Drivers also enjoy paid holidays, so that they can enjoy time with their families.
OTP Program
GP Transco introduced a new program, called OTP, which stands for Outstanding Trucking Professionals. The program gives company drivers an opportunity to earn more through this revenue sharing program. Most drivers will be eligible for the program at some point, and it gives drivers a great opportunity to significantly increase their salaries if they can maintain their requirements.
In order to qualify for the program, drivers must meet and maintain the following requirements:
On-time deliveries
Proper communication
Proper maintenance
Attendance and HOS utilization
Professional behavior and attitude
Safety-first attitude
Those who qualify for OTP will receive an additional 6cpm. Drivers are reviewed every six months, and if they qualify for the program at least 75%, they will get an additional 1cpm added to their OTP earnings. The additional earnings can really increase the driver's yearly salary.
Some drivers earn an additional $9,000 or more through the program each year.
According to GP Transco, about half of their drivers receive OTP in any given week, so there is ample opportunity to earn more through diligence and commitment to your work.
Home Time
GP Transco understands that it's important to maintain a work/life balance. They go above and beyond to accommodate drivers with home time requests and ensuring that they get the time they need to spend with their families.
Modern Equipment
Drivers use modern equipment when working for GP Transco. All of their trucks are 2018 or newer. Trucks have automatic transmissions, refrigerators, disc brakes, APU and more.
Other Driver Benefits
GP Transco drivers enjoy many other perks, like:
In-house maintenance: They have a full-service maintenance shop, so drivers can relax at home while they repair your truck. Owner operators can also use their maintenance shop.
Courtesy cars: If your truck is being repaired or you need a set of wheels during your reset, the company has a fleet of courtesy cars available for use.
Driver tablets: View load information, submit PODs, navigate and look at your payroll information right from your tablet.
Rider policy: Adults over 18 years of age can ride with you – free of charge.
Pet policy: Bring your furry friend on the road.
These perks may not add to the driver's salary, but they make work life more enjoyable.
GP Transco Driver Reviews
GP Transco has an open-door policy, so drivers can express their concerns without fear. The company understands that happy employees are what drive their success. They are open to feedback to improve.
Their open-door policy and high pay give them high marks with drivers. GP Transco has earned favorable ratings with their drivers, but like any other carrier, they do get some complaints. These complaints aren't out of the ordinary and are primarily focused on: being out on the road for long periods of time and poor management.
Most drivers are happy with management and the work/life balance, but a few feel they spend too much time on the road.
Overall, drivers are happy with the company, their pay, their benefits and the overall work experience.